Ball Bearing slides
Ball bearing slides come in standard and full extension although most are full extension. They are zinc coated so they have the standard silver metal appearance. Full extension slides are captive on both sides so installation can be a bit trickier than European style. There are metal tabs on the slide that allow for some tolerance if the shelf and the cabinet are not perfectly matched. Usually the first time you slide the shelf in it is a bit stiff and then it adjusts and rolls very smoothly. The slides simply screw to the side of the shelf so they do not add any strength to the structure like the European slides do. As with any slides there are quality versions and low cost knock offs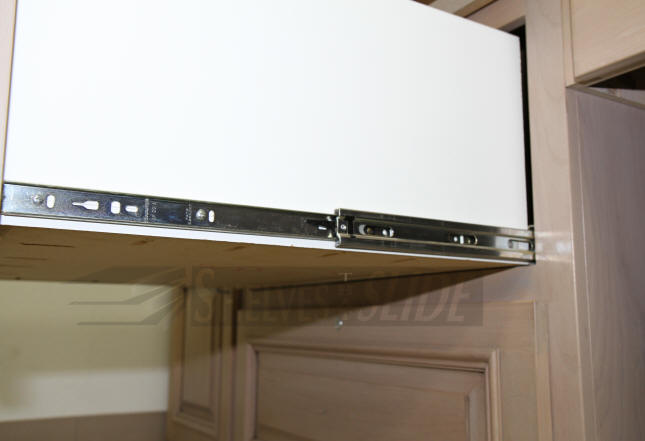 Cost $ - $$$$ - The price varies depending on the quality. Ball bearing full extension slides are usually cheaper than the epoxy coated full extension equivalent and some are cheaper than the quality 3/4 extension euro slides. High quality ball bearing slides can cost as much or more than the full extension epoxy slides
Mounting - Versatile mounting. Can be side mounted with spacers, base mounted with L brackets or rear mounted with metal rear brackets. They are half shelf friendly
Pros
Cost - Low cost for full extension slides
Mounting - Versatile for many different mounting configurations
Smooth - Ball bearing slides are exceptionally smooth rolling when installed correctly
Soft Close - Most full extension slides can be equipped with soft close
Cons
Structure - Ball bearing slides simply screw to the side of the pull out shelves, they provide not additional structure
Visibility - They attach to the side of the shelves and are probably the most visible when extended of all the slide styles
Space - The ball bearing slides use the same 1" as the European slides so the pull out shelf will be 1" smaller than the clear opening of the cabinet.
Moving parts - ball bearing slides have hundreds of small ball bearings that roll when the shelf is opened or closed. These balls can get gummed up over time especially with the grease that they are exposed to in a kitchen environment. It is quite common for them to lose their balls over time and then it is just a matter of time before the shelf stops rolling due to the missing ball bearings
Self Close - There is no self closing feature built into ball bearing slides but it can be added with a soft close module. This can be a problem as people tend to leave the last few inches extended and close them with the cabinet door which can damage the door.
Locking detent - The locking detent can require up to 15 pounds of pressure to start the shelf rolling