Thanks so much for your speedy production and quality work. It took me awhile to find you online. I will recommend you to anyone and everyone who is looking for shelves that slide. Your shelves have helped me reach items that had been long forgotten since we moved to our house 23 years ago. These make so much sense-Thanks for making them!
Have your ears been burning ?? I have been online/ on the phone all weekend bragging about my wonderful shelves that slide that we just installed.
they look fabulous and I have to say worked well for retro fitting into cupboards in a 1920's Colonial home.
Good job to all those who made them - we will be ordering more.
Thanks again
Teri Martin
---
Hi Steve,
sorry for the tardiness of this message. Just a note to let you know that I was very satisfied with the quality, value and service of your product and your company. I've shown your installed shelves to friends and they were equally impressed. They told me they'll keep you in mind for their next project.
Thanks again. Keep up the good work,
Sincerely,
John Codiglia
---
Hi Steve, our shelves came Tuesday, April 23rd. We put two of the six in that afternoon. Then we rested a day! (we're older---so it was an effort getting down on the floor and trying to hold one thing while marking something or putting in screws) Today we put in the other 4. The four were much easier---we learned from the first two. We had 3 half-shelf and 3 bottoms shelves to do.
They are now all in and we love them! Somewhere I read they were 5 minute installation. I don't think even someone who is 25 could do these in 5 minutes, but I will say that it took less than 2 hours to do the 4 today.
I am so happy to not have to get down on my knees to get the stuff at the back on the bottom of the cupboard. Now I can just roll that baby out and pick up what I need---yay!!!
Thank you so much--they all fit perfectly!
The ironic thing about these shelves is that I wanted these in our last house and we never got around to getting them---we lived in Mesa! Now, here we are clear up in Nebraska and our shelves come from Phoenix!
Thanks so much for the great service. You need someone who knows punctuation to make some improvements in those instructions, though! A couple of places are very confusing because commas were left out. Also, there were places where the sentence should have ended, but it didn't.
We will enjoy the shelves!
Jill Brandt
---
I wanted to email you a testimonial about your fabulous product!
In a single afternoon, my husband and I were able to install 6 awesome sliding drawers in our kitchen cabinets. Most people would not be impressed to hear how easy installation is without understanding I was able to installed these while being 9 months pregnant!!! The base-mounted premium sliding drawers are very simple, straight-forward and well designed for do-it-yourself installation. I did the easy placement of the "L" bracket slides on the cabinet bases and existing cabinet shelves and my husband did the and drawer lifting and placement. Shelves That Slide's premium pull-out drawers are beautifully finished and 100% more convenient to use than my regular cabinet shelves! Before ordering from shelvesthatslide.com, I had received a quote from a custom sliding shelf/drawer company for $3000 to install 6 sliding drawers in my 36" wide kitchen cabinets. I was very pleased to find I could install the same quality and quantity of sliding drawers in my cabinets for 10% of the cost the custom sliding shelf/drawer company would have charged! Thank so much, Shelves That Slide!!!
Sincerely,
Lisa S.
---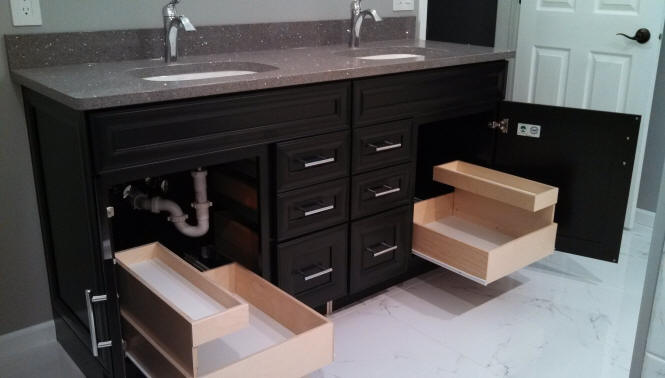 Just wanted to send a quick note with pictures and express how pleased I am with the quality of your product. You didn't have any bathroom vanity shots so here you go. Measured and installed myself, they're just what I wanted. Better than wire, complements the cabinet drawers, fits the full width with caddies, solid construction, quick turnaround and a reasonable price.

Thanks again,
Mark
Suburban Chicago
---
received and installed. thanks, they work great.
Tracey Grossi
---
Hello Steve,
I received a call from your company earlier and got the payment for "recut" items square away. Thank you for taking care of that!
Your staff said that the "re-cut" shelves are going out today.
Anyway, I love the results of my slide out shelves and have had many compliments! I would highly recommend "shelvesthatslide.com" to anyone!
Best regards,
Suphakarn
---
I would like to thank you for our shelving. I installed all four, the first two, 2 hours, last two one hour, with marginal bad words.
They have made a huge difference, more space, no climbing into the back.
The only downside was the brokerage fees from the border crossing.
Thanks again, Steve
---
Thank you very much! The order was fulfilled in a timely manner, the packages arrived within the expected estimated delivery timeframe, and installation of ten shelves only took a few hours (spread out over a couple of days). My wife and I are really loving the extra space these shelves have given us in our existing cabinets.
Thank you again from a satisfied customer,
Jack
---
Thanks for your help. I used the 1/2' wood and it worked fine.
My wife really loves your product.
John
---
Perfect! loved it all!!!
thanks
Christopher A.
---
It works and looks great.
Thank you
Mark Simon
---
I just wanted to let you know that I received my shelves and I absolutely love them! They are very nice quality and the installation went great. My husband installed the first 4 – and I did the last 3 myself!
You have a very nice product and I will highly recommend your shelves to my friends and family!
Thank you,
Judy Schnebelen
---
---
Thank you, Steve. We love the shelves. My wife gets excited each time I finish installing one. Tom
---
Hi I am an existing customer and I am going to order more shelves after i send this. I received the 2 I ordered and honestly by the time i Opened the package it took about 15 min to install both, Kudos to all of you.
Now I Have 7 drawers in the kitchen with bottom slides in the center the drawers open a bout 3/4 of the way and drag n sag. what i need are the guides that will allow the drawers to come out full like the shelves, All the drawers have 1/4" clearance on each side, all are 20" long from the back to the face that contacts the cupboard, and the dimension from the front of the cabinet is 23 3/8" and the slides will have to mount at the rear of the cabiney, Can you make this work?
Thanks in advance and I'm off to the next order for shelves.
John Neal
---
Subject: Shelf Order 47389
Ordered twenty shelves to cover our kitchen, bath, and bar areas. They were shipped quickly, with lots of packing to prevent damage. Having previously worked as a cabinet maker and installer, I was pleasantly surprised at the quality of the shelves and brackets. I installed nineteen of the shelves in less than a day. Would have gotten the last one installed, but I was able to step on the brackets as they lay on the floor - bent them "nicely!" Called your service and the gentleman was "amused" at my dexterity. I offered to pay for the two replacement brackets, but the gentleman sent them at no charge. Another pleasant surprise.
You are to be commended for being a producer of quality products, at a fair price, and proudly made in America.
I talked to you at least twice prior to buying to insure what you had was what I needed. It was! All conversations I have had with you have been pleasant, professional, and informative. You should all be proud to be part of such a fine company.
My thanks to you all for a quality product, and quality people to deal with.
David L Thomas
---
Couldn't be more pleased! I took your website advice and only ordered one Premium shelf since I was a little skeptical about both your quality and ease of installation. Well, I was extremely pleased on both counts and so I ordered six more. They came and were quickly installed in my kitchen. (I even thought the installation was kind of fun!) The shelf construction is first-rate and they look great with the nice lacquer finish. It sure is nice to do business with a company that makes such a nice product - your pride is well-deserved.
Robert Yountz
Hickory, NC
---
p.s. I should say my husband installed the rest of the sliders yesterday and I absolutely love them!
Now my cabinets are organized and I can see what I've got in there. Makes cooking a much more enjoyable task.

Theresa
---
Hi Steve & Doug,

My order of 10 shelves came in 2 boxes. One box included a pack of screws and 10 door protectors. The other box did not. I thought the other box should contain another pack of screws and 10 more door protectors and called to get more. It wasn't until I began installing the shelves that I realized my mistake.

BTW - the shelves are fantastic. My wife says she loves them. Happy wife...

Thanks,
Jeff Robertson
---
Got my shelves at 330 and had them in by 430. Love them already!!
From Jeanne's iPhone
---
I received your product this pas Friday and installed the product on Saturday. I had ordered 2 slide out shelves for pots and pans. The quality was excellent and the install was fast. I plan to order more for other cabinets.
Greg Dietrich
---
Thank you for this terrific product. My wife and I installed ours this morning. We bought (order number 48827) three Newline sliding shelf systems and followed your invaluable directions. Took us a couple of hours. The most difficulty was in preparing the pantry cabinet to receive the slide outs. We had to remove the adjustable shelves and trim them about an eighth of an inch; and we had to bore out the quarter-inch shelf-clip holes so the shelf clips would fit deeply enough. Once all that was done, assembling the guides to the adjustable shelves was the easy part.
George and Nancy Ford
---
I just wanted to Thank You for the selves that I ordered. I installed three of them in about 1 1/2 hour and used the suggest of using tape to hold them in place and it worked great. Very Pleased with the product and if I need more I know just where to go and will refer friends to you. Thank You Gary H. Ayers
---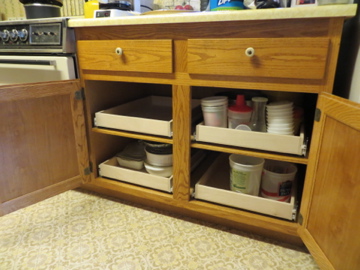 Steve,
We received our shelve order on the 20th, and I completed the installation on the 23rd. We are pleased. It will make our trips to the cupboard much more pleasant. I have attached a photo of our project.
Edd B,
---
Thanks, everything else is just fine. Your drawers are very well made and have made such a difference in my cabinets. As a person gets older it gets harder to get down to get what is in the back on those little half shelves. Thank you.
Lana
---
We installed the sliding shelved in our previous house. After we moved here, my wife missed them so much she asked me to order them again! They installed like a dream and look great, too.
Thanks!
Jerry Dykstra
---
Hello: Just wanted to say thank you for fine products, fast shipping, fantastically packed boxes, and instructions that were great! I have been re-building a condo for my sister-in-law [wheelchair], and put the pull-out shelves in the kitchen.
We are very pleased with the products and wanted to send our THANK YOU to you all! See photos.
Jerry Davis [buyer] Kathy Salkin [ sister-in-law ]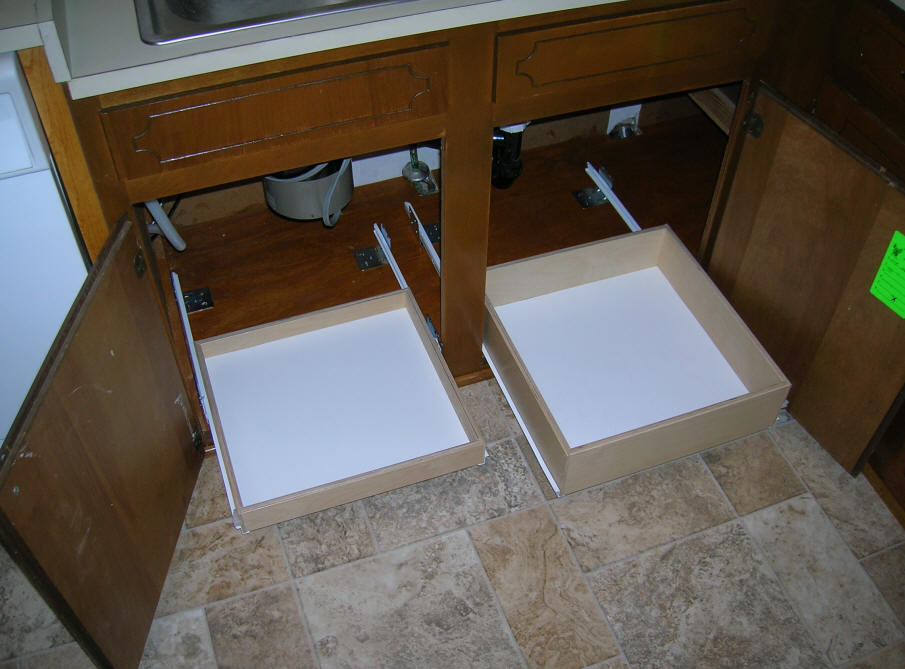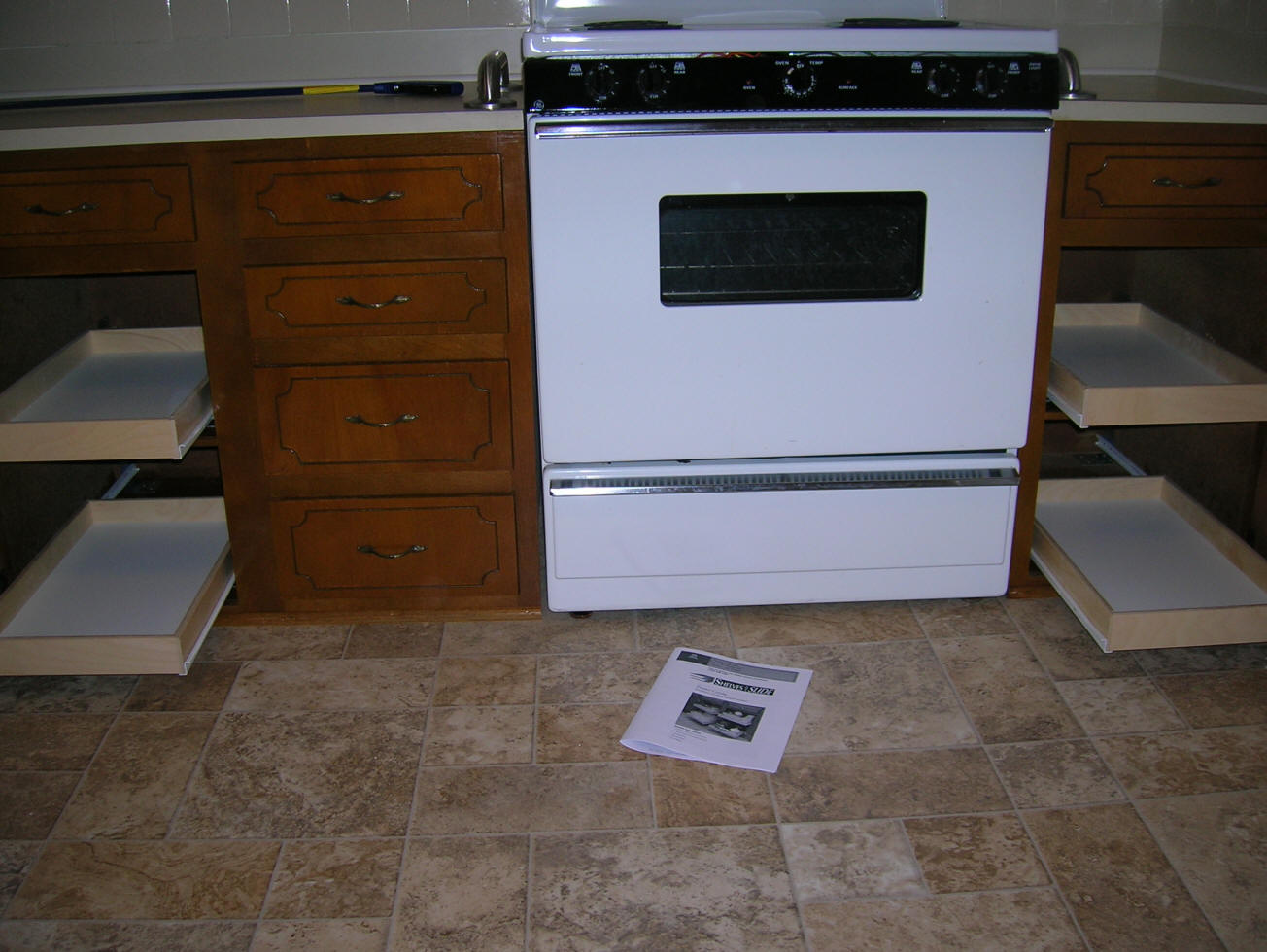 ---
Hi Steve,
I am so HAPPY with my STS – Here are some pictures of the finished pantry – I am going to paint the fronts with chalkboard paint to use for labeling – that way I can change!
Again, thank you for your help! As soon as I can find more places to use these, I will order more!!
Here is the blog post I created for the project
http://followmydot.com/2013/01/25/who-needs-a-coat-closet-at-the-beach-shelves-that-slide/
Melissa Dotson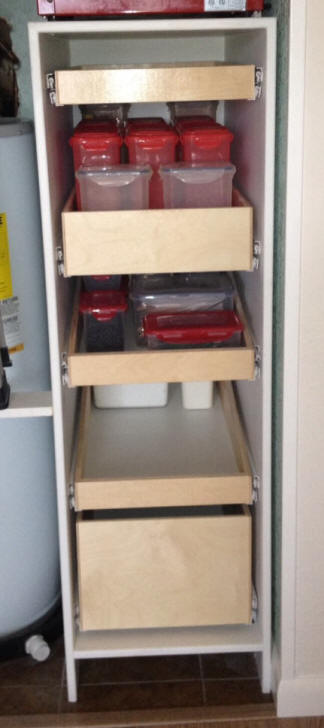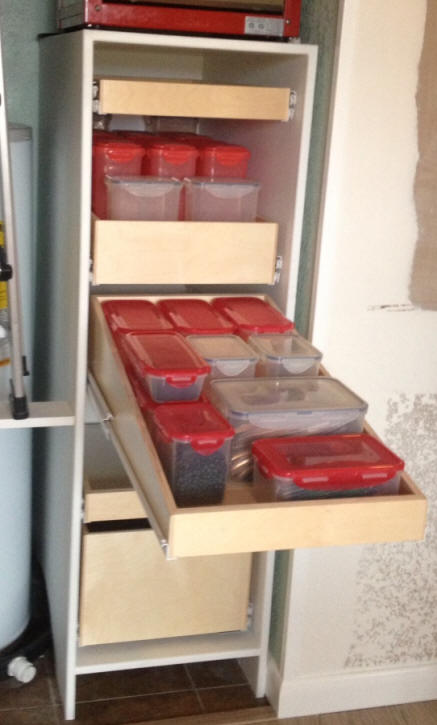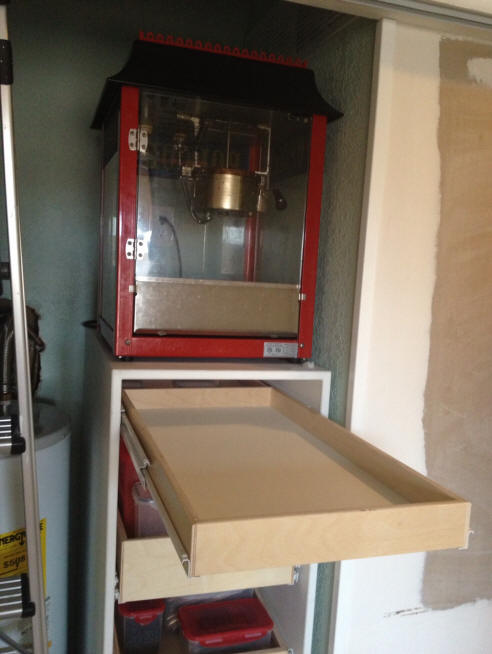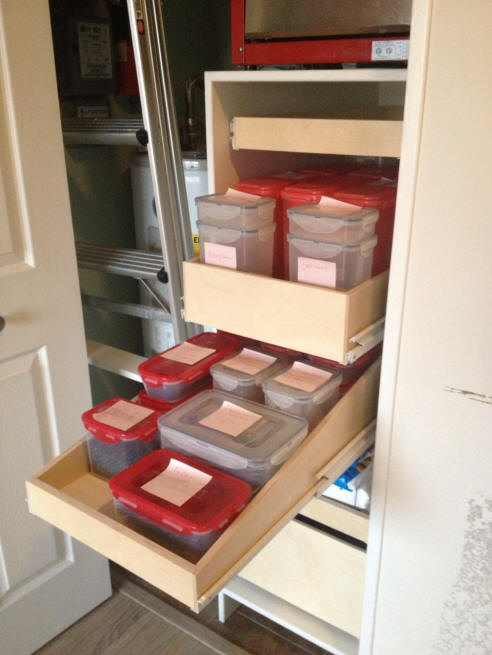 ---
Hi Steve,
I want to thank you all for the fantastic error free job. All the shelves fitted perfectly.
I wanted to let you know for the fantastic job.
Regards,
Dinesh
("Find a purpose, the means will follow - M.K.Gandhi")
---
I just wanted you to know that I love love love the shelves. They were easy to install, and my husband said, "why didn't we do this 15 years ago?" So THANK YOU, and I do plan to order some more in the future. My daughter wants some for her cabinets and it's on her Christmas list for next year. Best. Improvement. Ever!
Rita Holland
Thanks again, you guys, you do good work and are so responsive. It's nice in this day and age to get such great customer service. (You can use this comment, too, if you want :-) )
Rita
---
Finally got my shelves installed - they are FANTASTIC!!!!!!!!!!!!!!!!!!!!!!!!!!! So glad I found your company online!! You've made my kitchen life easier :)
Rebecca Boyett
---
Ok these are the best thing i think i have bought for my house so far. I installed them in one day, from emptying the pantry to refilling it with installation in between. Took a little work but so worth it

thank you Shelves that slide!
---
Hello,
Just wanted to tell you that the shelves I ordered fit and worked perfectly. We were surprised that all the bake ware that was stuffed into the cabinet before fit easily in the new shelves.
Thanks,
Richard Salsbury
---
I received the order Thursday, 12/6 and installed one pair of shelves on Friday and the other pair, today. No problems! Not bad for an 82 year old guy with a few stents in his arteries, eh!
Al Cinquepalma
Cary, NC
Not bad at all Al, great job!
---
Received yesterday and installing today. Very, very nice! Thank you!
Pam
---
Thank you for your prompt service and delivery! Your product is terrific and the information on the website for installation was most helpful. The drawers have been installed and are being used daily - much to our pleasure.
Lee Welch
---
Steve,

Got the support piece today. I really appreciate you going the extra mile! I got my full slideouts installed yesterday, will be installing the half slideout today with the support piece. I was impressed by the packing job and am happy with the quality of the shelves as well. I plan on getting more in the future and will definitely be using you guys. Thanks again.

-Wes
---
Thank you! I received the shelves and they are installed now and could not be happier. My husband is a carpenter and commented on how well they were made! Thanks again:)
---
We received our shelves and are so pleased with the service and quality.
We passed this information on to others. . .
Many thanks,
Donna Carter
---
Steve,
Received the plastic wedges and replaced the cracked wedge. I have attached a few photos of the shelves that I installed.
Thank you
Frank




Click on the pictures for a larger view
---
Thank you for a product that is very well made, and expertly packaged for shipping. I don't normally provide feedback on products I purchase, but I was so impressed I had to write.
James Wheeler
---
The shelves you sold us were stained to nearly match the cupboards and have worked out great.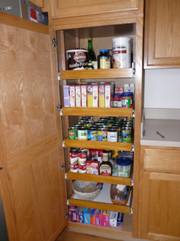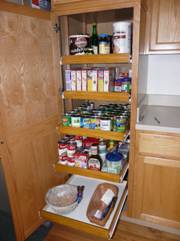 Thank you.
Wayne Steiner
---
Sir,
We received the shelves in great condition due to your excellent packaging process! All shelves were cut to the exact size requested and due to your detailed installation instructions, even I could install them. I think I even impressed my wife!!
Give everyone a raise and half a day off :-)
Best wishes,
Gerard
Well we did not give everyone a raise and a half day off but we did do a nice Barbeque for lunch and the crew thanks you!
---
Good morning.
Thank you for your recommendation. I bought and installed the 225. It is the perfect choice for what we needed. I will be sure to recommend you and your company to anyone who needs help like I did.
Thanks, again.
Barron
---
Hi,
We are so pleased with our purchase of the Two-Tier Basket and the Chrome pull-out basket made by Rev-a-shelf. Our cabinets weren't wide enough for pull out wood shelves. I have a 27 inch double door base cabinet with a face frame. I used the double basket on one side and the single on the other. The single was so easy to install. We just used a drill for pilot holes and a screw driver. The double basket was a little tricky. The first installation was too far forward and the door would not close completely with the metal frame bolted to the face frame. We added a block to the back of the frame and recessed the baskets deeper into the cabinet. It works really well and I'm so glad that the base cabinet is much more useful.
The quality of the product was exceptional. Very heavy duty!
Thanks so much!
Shelly
---
Hi Steve, I received the shelf and just now finished installing it. I've wanted this for so long,
I thought I'd share the final results with you since you were so kind to accommodate my special request.
THANKS LOADS it's exactly what I wanted.
Alicia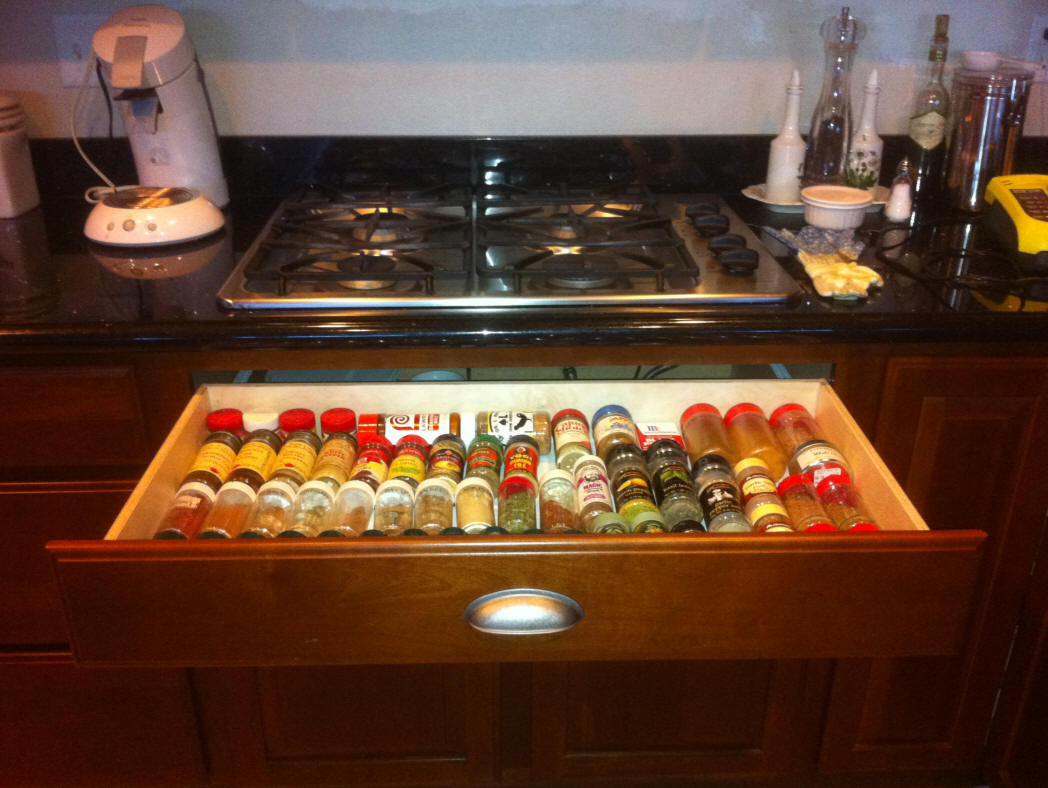 This is one of our 4 7/8" shelves but we reduced the height to 4". We can adjust the height of pour pull out shelves to meet your needs. The 3 1/2" pullout that we recently added would work in this situation. This space also works great for cooking utensil storage. It is common to be limited to a 16" deep shelf because of electrical or gas lines. They can be installed on 22" slides so that they can be rear mounted. We can go up to 6" in difference between the slide length and the shelf depth. For example a 14" deep shelf can be ordered with 20" slides
---
I have been looking for something to hold my garbage can for the tiny cabinet next to my sink since we have moved into our house 13-1/2 years ago! For all these years, I have used paper bags in that space, which I need to pull out to put the garbage in. I have always thought it would be wonderful to have some type of pull-out shelf but have been unable to locate something so narrow. While reading my Guideposts magazine a few weeks ago, I saw your ad and went to the website. Imagine my delight when I saw your 20 quart dual use 8 5/8" or 14 5/8" wide shelf. This is exactly what I have been searching for! Shipping was fast, installation a breeze and after almost 14 years, I have just what I always wanted. Thank you!
Kristy
---
I received the shelves and they went in easily and quickly. They work beautifully. Thanks for making such a top quality product.
Sincerely,
Mark Rubin
---
Dear Sir or Madam:

I recently purchased 7 sliding shelves for our kitchen. It took about a day (working slowly) to install them. I found the instructions for measuring, ordering and installing easy to understand. The product is top quality. We are very pleased with our purchase.

Sincerely,
Ralph
---
You are welcome. You have a good product and great service. Richard made sure my order was available for a pick up today and install tomorrow. Very happy. Thank you.
---
THANK YOU FOR THE INFORMATION, IT WAS AN EASY INSTALL AND WE ARE VERY HAPPY WITH IT
GEORGE AND ESTHER STEVENS
---
Works beautifully. Thanks for all your help and customer concern.
Know that I understand the systems I will be back for more.
Great company!!!
Mark
---
I received the order Thursday, 12/6 and installed one pair of shelves on Friday and the other pair, today. No problems! Not bad for an 82 year old guy with a few stents in his arteries, eh!
Al cinquepalma
Cary, NC
---
You are working my second order at this time (Order #24795) and I thought that you might be interested in how I installed my first order from you in our kitchen. I am 83 years old and not as limber as I was years ago, so crawling down on the floor and up on ladders to fit the L-brackets in place needed some thought, so I decided to cut some 1/4 inch plywood sheets the same dimensions as the shelves and mount the left & right L-brackets in place on the kitchen table using #8 x 1/4 sheet metal screws ensuring that the sliding shelves would slide correctly in and out. When working properly I used a good waterproof wood glue to mount the unit in place onto the fixed support shelf. I spray painted the piece of plywood to match the cabinet and used cans of fruit, etc, to hold the unit in place until the glue set. My back survived the installation and all five sliding-shelves are doing fine - according to the wife! Do you produce a sliding shelf to hold dishes vertical in a kitchen cabinet?
Anyway - your sliding shelves are great!
Byron D. Lott
---
Thanks for the prompt service. the shelves have been received and installed.
A great product very easy to handle and installed in moments thanks!

Regards
Paul Dugdale
---
My wife and I really liked the shelves and just ordered two more. The only thing I would recommend is that you make the pictures in the brochures you send with the shelves clearer. They are pretty dark. Otherwise, the shelves were easy to install. One thing my wife and I commented on was: Golly, finally, a company who ships what you order, with all the right parts, all the right accessories and, good quality to boot. We never mind paying good money for good quality and good service because we get good value for our dollar.
Thank you
John and Nina Raeth
---
Just wanted to say thanks! I received my slides one day and had them installed the next. They are well built, the installation instructions were right-on, and the finished product looks great.
Jim
---
Today we received our shelves. I have only installed one so far, but will complete the task tomorrow. I'm impressed with the construction of the shelves, the shipping box in which they were sent, and the price we've paid. Good job. Thanks.
---
Dear Folks at Shelves that Slide:
The replacement shelf came today and is in perfect order. Thanks so much for your response. I look forward to dealing with you in the future.
David Tanner
---
---