Reviews for Shelves That Slide Inc custom pullouts
STS is proud to have an A rating with Angie's list, 5 stars in Yelp and an A+ with the BBB
These are real e-mails from real customers who have installed our pull out shelves in their kitchen cabinets
We would love to hear a review from you as well!
The only thing better than pull out shelves for kitchen cabinets from shelves that slide and our kitchen accessories is our customers.
We are happy that our pull out shelves have made your kitchen cabinets easy to access.
We know you will enjoy them for many years to come!
Thank you

Pantry shelf Kitchen shelves
---
Shelves arrived Saturday, March 9 (exactly four weeks from ordering). They sat in the box for a week because I was ill. I was very pleasantly surprised when I opened the box on March 16. The three shelves and the hardware was very well packed with plenty of bubble wrap. I used to work in a custom cabinet shop and I was very happy with the quality and workmanship of your shelves! All three shelves have now been installed (easy peasy) and I am tickled to death with them.
First 2 pics are the slider I put in the pantry for heavy crockpots, etc.
The next 3 pics are the two sliders that I put in a base cabinet.
LOVE ALL THREE
I will be placing an order today for one more sliding shelf, a bread box.
My only complaint is very minor. I used a little longer and beefier screw than the ones that came with the shelves.
Sue Landes

"Show the world your smile :)"
---
Perfect fit, thank you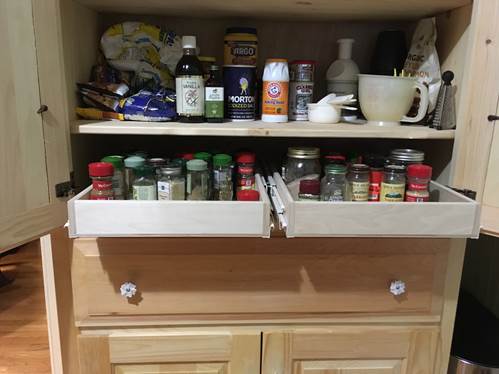 ---
Hi Steve,
Just wanted to let you know how pleased my husband and I are with the sliding shelves we ordered. We needed 9 of them for a tall, narrow and deep kitchen pantry. We first ordered only 2 so we could check out the quality of construction. They are very well made of excellent quality and reasonably priced. We therefore ordered 7 more. We highly recommend your company for quality, service and affordable cost. Since we aren't professional installers, we decided it would be best to use the base mount method of installation on top of full shelves, as it seemed easier to get accurate measurements on our euro cabinet and side mounting seemed like it would be much more difficult. I included two pics of them with my husband proudly displaying them, since he did most of the installation with minimal assistance from me. One with shelves fully extended open and one with them closed.
Thanks again for a great custom made product. I absolutely love being able to reach and organize everything in this cabinet now that I can pull out the shelves. Very Happy!!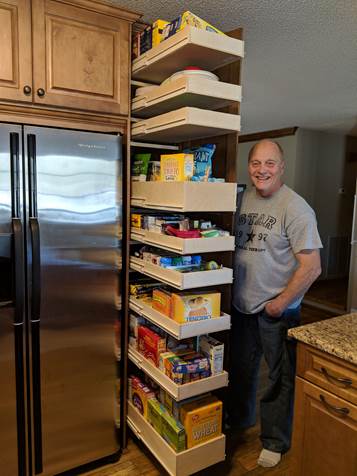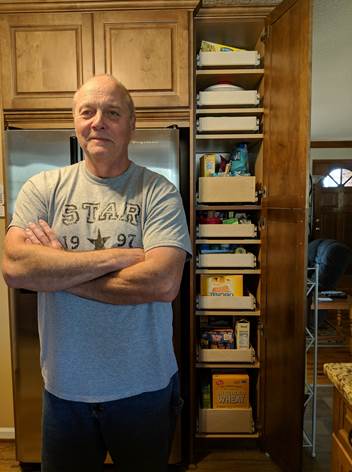 ---
The roller assembly arrived in good condition and I got the broken one replaced in a matter of maybe a minute. Thanks for your quick attention to this matter. It has been a pleasure working with you and your company on this project. Thanks again for your help and measuring advice.
---
To whom,

I wanted to drop you a note to let you know how pleasantly surprised I was on how my expectations were exceeded. It all started when I first opened the boxes and how the above and beyond job to prepare the merchandise for shipping was performed. Exceptional! Then we get to the product. Superior craftsmanship and the installation was a snap. I've already referred others to you. BTW, the gentleman that took my order was also stellar. Very kind and helpful. Everything worked out perfect!!
---
My husband just installed my new shelves today and I absolutely love them. I couldn't have ordered anything better and the fit is perfect. Thank you for making such a wonderful product.
---
Hello Steve,
I'm sure you've received many thank you's over the years from happy customers about how their new shelves "changed their lives". Please count this as another!
We received our shelves last week and installed them over the weekend. Already, they have made such a difference! Thank you again for being so willing to work with me to custom cut one of them. I really appreciate the way the tall sides are cut back from the short side to ease the transition and appearance. And my cereal-loving husband appreciates that he can stock up without consuming all the space in the cabinet as well as reach the boxes more easily. :-)
I've attached some photos to show you how our awkward corner pantry has become much more efficient and organized due, in large part, to shelves that slide!
---
Piece of cake!! Having a bottom space, I assembled rails & shelf & then sat the whole thing in place. My space being level & the friction free mechanism allowed me to slide shelf forward enough to screw
Hi Steve,
I finally got around to installing your shelves. What a great product! The closet that I was to reno was a little tricky as nothing in this house is completely square. I used the large spacers on the front right side with much longer screws. This gave me a slight angle that I needed in order to be able to slide the shelves completely open as the cupboard door backs up to a sliding door, and does not open to a complete 90°.
Anyhow, other than a little paint or stain, the job is complete! Attached a few pics.
Thanks for your help Steve and I will certainly keep you in mind for any future needs.
---
Thanks I was very pleased with last shelves. Much better than Home Depot.
I installed a sliding barn door over the pantry which was the old furnace room I converted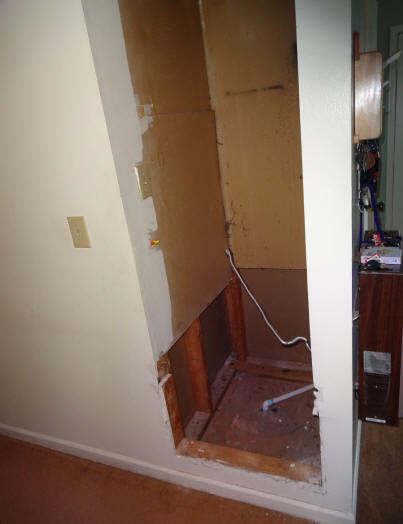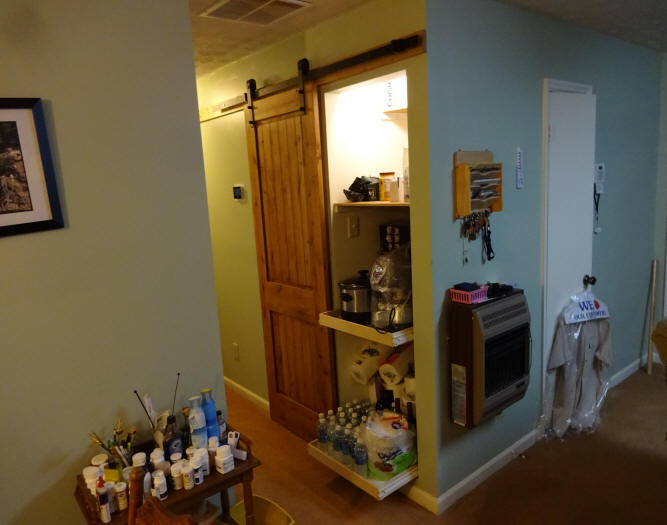 the two back L brackets in place. I used the center hole because I did not need to make any adjustments. The extender then allowed me to screw down the front two L brackets. This may be unique case for bottom shelf but putting it all together first save headaches & buying extender proved to be critical. Great craftsman ship. No I don't do Yelp.
Jim Austin
---
Dear Trays that slide Customer Service , I apologize for not writing you sooner , I must tell you that the overall quality of the trays including the packaging my God you could have shipped the trays to Mars and they would have gotten there without a scratch was Excellent . The ease with which I was able to install them was amazing , the trays are beautiful sturdy and I'm getting huge compliments on their looks and the way I install them . What can I say THANK YOU , your product is excellent Yours Truly Aldo Montana
---
Thank you so much. The shelves fit perfectly, were easy to install and I love your instructions, down to earth and in perfect English. Thanks to you.. made in America. I loved the instruction about the "plastic thing" and "now it's time for the screwdriver". That is soooo perfect!
Anyway, thanks for doing what you do.
---
Love my shelves! They were easy to measure, order and install. I've
ordered twice now. Would definitely recommend them. The are very sturdy and
can handle a lot of weight.
Thankyou again!
Jerri Pederson
---
Gentlemen:
I'm unbelievably happy with my new shelves!
One of the first things I was impressed with was the way the shelves arrived. An elephant would need to step on the packing to cause any damage, every shelf was labeled so we knew actually where each shelf went and the installation instructions were right on.
My husband and I always work together of home improvement projects, but unfortunately as soon as the shelves arrived I decided to have a stroke. As a wonderful home coming present my husband had all the shelves installed, lined and everything put away. I could not have asked for a better help in my recovery than my new pullouts from Shelves That Slide.
Thank you,
Donna
---
The installation is complete and it went okay. Thanks for all the help. I have one very happy wife with the pull out shelves.
Here is a suggestion that I found worked great.
When you slide the shelves and need to pull them forward to insert the screws it can be difficult to reach in back. Instead I put wood blocks (need various widths) between the brackets (same for the half shelf) and the cabinet wall. Then I removed the draw and inserted and tightened one screw on each side for left/right movement. If the shelf moved okay I removed it and completed the screws. If it bumped or was too tight I simply adjusted the left/right screw. Saved time and back aches with these 71 year old bones!
Again thanks
Sales people,
The shelves I ordered arrived yesterday, and I installed them today without much problem (my measurements didn't leave much room for error); and they work fine. My wife thinks I am a hero!!!!
Thanks
Arthur K. Strasburger
---
To whom it may concern,
I want to thank you for building a such a HIGH quality product. I applaud the care you take in prepping the products for shipment so they arrive in perfect condition. I chose the fully extendable draw slides for my project. I ordered a single shelf to make sure I had the dimensions correct and just finished installing 10 of the same size shelves in my new kitchen cabinet cabinets. I chose the slides that anchor on the bottom and it was so simple to install them. I attached the sliding rails to the existing shelves to make the installation easier and so I can move the shelves up or down as needed. The most important thing is that my wife is so pleased to be able to access everything on each shelf since they full extend. Bravo.
Regards,
Ted Koch
---
Hello Steve,
We received all of the product below, have installed it; and everything looks and works great! The majority of the order was for my son's new home, he and his wife are happy as clams with having these gliding shelves in their base cabinets and pantry – now they can actually find things that were getting lost in the backs of the cabinets! .....
Thank you,
Sarah

Cayucos, CA
---
The new shelves are installed and I am delighted!. Just had two neighbors in this morning to see the finished work and find out how to contact you. I was pleased to give this a great recommendation. I did have the shelves installed by someone else and the ease of getting them in made a believer out of him as well. He noted that he had done lots of work in kitchen including installing other shelf unit and yours were the best made shelves he had ever installed.
I want to commend you particularly for the responsiveness of your office staff and Steve. I needed to have the shipping schedule changed because of a trip we had planned. I needed to understand how your shelves would install with the half shelves in my existing cabinets. I really appreciated the pictures answering the installation question and the cooperation in scheduling delivery.
Excellent product. Excellent service. Thank you.
Marty Azevedo
---
I ordered a total of eight shelves. One was for a half-shelf installation and three of them were full extensions. While my hubby was painting outside, I installed
all of them BY MYSELF! It took me a few hours—but I work rather slowly. Unpacking them took some time due to all the shrink wrap, but they did arrive in good shape so I was glad for that. If your shrink wrap supplier doesn't give you a huge discount for volume, they certainly should!!
The installation was really quite easy to do in spite of the fact that I had removed the little red stop locks on one of the full extension drawers thinking they were part of the packing to keep the drawers from rubbing during shipment. DUH! Once I put them back on the drawer everything worked fine.
The quality of the drawers is very nice and they look great! And, more importantly, I don't have to stand on my head to access what's in my cabinets anymore!
Thanks for a GREAT product!
Regards,
Becky Eckes
---
Thank you for shipping my order in such a timely manner. Everything came in exactly as I ordered. Items were packaged very well and the quality was better than I expected. Thanks again. Mike
---
Re: Order #81939

I'm very pleased with the quality. The dimensions were just as ordered. Hopefully the shelf will last a long time. Thanks again.

Jeanne and David, Lucas, OH
---
I wanted to provide you with another favorable testimonial about your product. The deluxe sliding shelves we purchased were well-built and installed easily. We're very satisfied with the shelves and have no hesitation about recommending your products to others.
---
Dear Folks:
Wanted to let you know how pleased I was with your nice product. We bought a small beach house that did not have sliding shelves in the new kitchen cabinet like we had in our primary house---fortunately they had come with those cabinets. I found your company on-line. I just ordered 2 shelves at first to try them. I was very pleased and it probably only took me 20-30 min to install the first one, and only 15 min. to install the 2nd one. Your instruction manual was clearly written and was a huge help.
You make a great product--and I ordered the other 3 that I need this evening.
Thanks
Gregory Stout
---
Thought you may like to see how we incorporated your shelves into our newly remodeled home!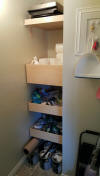 My wife had the builder redo her pantry closet based on your sliding shelves....Came out great!
---
I know that you get a lot of similar letters, but wanted to put my 2 cents worth in. These shelves are great! Due to some physical issues, I had them installed by a cabinet maker here. The double door cabinets had the stile removed and attached to the left door. When closed they look like they did before installing shelves. I need to stain the new wood.
Total cost including everything was less than $775.00 for 10 shelves...a real bargain, especially compared to the highly advertised "G" brand.
We're happy campers.
Roger Werchan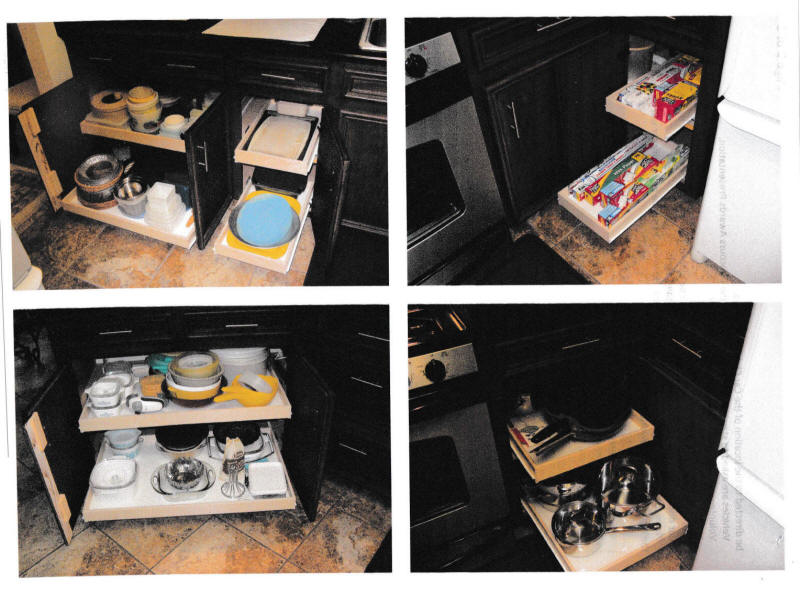 ---
Hello Steve,

The slide came in quickly and we were able to get all the drawers in.
Thank you again for the great customer service and prompt replacement. I look forward to getting additional drawers from your company.

Regards, John
---
Hello, Your shelf arrived today. Perfect ! Thanks for a great job. Will recommend you to friends.
Bob Turner
---
Not sure where to send this, but wanted to share my great experience with your company and products.

I recently moved into an older home that I wanted to retrofit the kitchen with sliding shelves. I researched a bunch of companies online and decided upon yours. When I went to make my final purchase, I noticed the 10 for $499 option -- and chose it. The drawers came super fast, and I didn't have to pay for shipping! They were packaged and protected well, and the workmanship of the drawers themselves is great.

I spent about 2 hours putting them in. And I am in love. So much so -- I just bought another 10-pack for the den to use with our dvd collection.

Thanks for a great product, an easy online ordering system, and a fast, safe shipping method.

Becky
---
Guys, I received my shelves and installed them yesterday. Everything fit perfectly! Thanks so much, I'll do another order tonight!
Cheers,
Alex
---
Dear shelves that slide,
I have completed installing 8 of your premium Shelves, 7 in the kitchen, and another in the bathroom. And I think I did a pretty good job of the installation. I am very pleased with the quality of these shelves, along with the ease of installing them. My 93 year old friend and I did the first 3 or 4, but once we got the hang of it, it went very quickly. I used one of your former customer's advice about attaching the rails to a former shelf so that the attaching could be done outside of the cabinet. This was the point that convinced me I could perform the installation.
I really appreciate working with your company, and there were no hitches. I even spoke to someone in your company on the phone, and he was very easy to work with as well. So, I would certainly recommend your company, and your product. Good work!
Gail Buss.
---
Put your shelves in this morning and they look and work great. Simple installation, well constructed and you folks did a good job of UPS proofing your packaging (one corner of the shipment took a good hit, but the shelves were not harmed). Very little wasted space in the cabinet and they slide effortlessly and stop on a dime. Really glad I found you folks online and I will proudly recommend you to my friends who are looking to make their life in the kitchen easier.
Thank you very much, Russ.
---
I received my shelves for 3 kitchen cabinets a couple of weeks ago. I finally had time to put them in when I discovered that some vital parts were missing. I was disappointed but when I contacted the company via email, I got an answer within minutes (to my surprise) and received the parts I needed 2 days later. I was very impressed by this quick action (I had recently purchased a table from another company that had to be put together and one of the parts was defective. I had to wait almost 2 weeks to receive a new BOLT of all things). Anyway, I just put the shelves in this weekend and already ordered more for another 3 cabinets. The bottom shelves took the allotted 5 minutes to put in. The top shelves were a different story. At least the first one. By the third one I had a system which made it much quicker to install them. All in all, the installation was pretty easy for a 60 year old woman with arthritis. I have done quite a bit of DIY work over the years so I was pretty comfortable doing it. I already love the shelves I have. Everything is so much more accessible for me. I can't wait to finish up with the rest of the cabinets. I would recommend this company to everyone who wants sliding shelves.
Thanks, Gail from McHenry, IL
---
Thanks,
Shelf arrived. Perfect fit for the new bathroom vanity. Installed in about an
hour. Took a bit to figure out the bottom mount full extension but then
carpentry is my worse suit.

Many thanks, now we old people don't have to get on our knees to find things
in the vanity.

Bill Storch
---
This is the second house where we have ordered your sliding shelves for kitchen installation. Our first order was at least 6-7 years ago in Arlington, TX. We are just as pleased with what we received this time. The order was perfect. Installation was smooth. It is nice to have quality products made in the USA by a company that delivers as advertised.
Henry & Phyllis Graham
Fulshear, TX
---
We just purchased a 10 shelve package and wanted to comment on them. They are very well built, function beautifully, installed easily as stated and add nicely to our kitchen cabinets. We may need to order a few more. Thank you for your product and service. Steve Ertischek
---
Good Morning, I installed these over the weekend. These are wonderful.
Nice quality, smooth operating and easy to install. They exceeded my expectations.
Thanks! Kurt
---
Shelves arrived yesterday in excellent condition. Installation took about 2 hours. About half of that time (I'm 80 yrs old) was trying to get down & up off the floor. Other then that, it was relativity easy. Thank you for an excellent product.
Walter Roeske
---
Hello Steve,
I want to write about my experience with your company. Recently I purchased 10 pack premium shelves from Shelves That Slide. I have few minor issues with the order and I called customer support few times. Each time I called, I had very pleasant experience. Both Devin and Diana understood my issue/concern, not only they assured me that they will take care of the issue but they did indeed took care of them.
The quality of he product is important to customers, but the customer services is equally or more important. Please convey my appreciation to your customer service team - Devin and Diana - for job well done.
Please let me know if you have any question.
Regards
Mayen
---
Hello,
My shelves arrived yesterday (perfect pantry pack + 3 premium shelves), less than 2 weeks after I ordered them. I just wanted to say how impressed I am with the quality of your product.
These shelves are absolutely top notch. I am not only pleased with the product, but your service and expedient delivery as well.
It really was a pleasure doing business with you,
Rob Rombough
---
Thank you, i am going from a walk in panty to just a large cupboard pantry and I really need these. We installed shelves that slide in my mothers kitchen for her 7 years ago and she loved them and they made her life so much easier. We have a whole kitchen to go yet but are spreading it out so as not to break the budget. You will be getting several other orders from us!
Sheila from Texas
---
Dear Sales,
I live in CO and bought 11 shelves. The shipping was fast. The packing was great.
I just finished installing them. I can't believe they came out that nice. My wife and I are very happy with the look. I wish there was a way to leave your company a great feedback online. Maybe you can post this email.
I will be recommending you to all my new neighbors, in our new development.
Best Regards
Manoj P
---
Thank you!!! I received the shelves and installed them immediately. They are absolutely fantastic.
They have made the cabinets of this 1976 kitchen look and act like it's a "modern kitchen".
No more envy.........we love our "new kitchen" shelves.
Will be looking at ordering more to update the rest of the kitchen cabinetry.

Regards,
D.E. Orange Park FL
---
My wife was having an organizational problem in our rv pantry. Your shelves solved the problem. Plus, they were a snap to install.
Thanks
Phil Grove
---
Arrived very quickly and installed in 12 minutes flat. My wife loves them!
Thanks for making me look so good
Dr Lawrence Ruehlen, Happy Michigan customer
---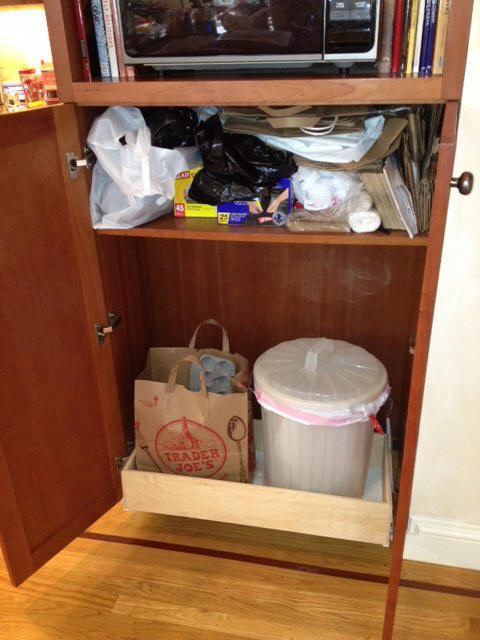 Hello Steve,
I was successful in installing the roller shelf for my garbage can.
This is such an improvement. Thank you for your help.
Sincerely,
Sue Grazioli
---
I called earlier today to order some rear mounts. The way I was going to mount them did not workout. Instead of telling the customer they made a mistake and I did, they solved the issue without charge to me. This was a complete surprise in today's business environment. Shelves that slide have far exceeded my expectations in the following areas. Please use this feedback as you please.
1. 1. Price. About ½ of everywhere else.
2. Quality. Excellent materials and construction.
3. Shipping. Strongest and most protected shipping materials and methods I've seen. It looked so nice I did not want to cut it open.
No possible change of damage unless they dropped a house on it.
4. Support. Will solve the customers issue even if they caused it.
5. Installation. Easy.
If you need a aftermarket shelf do not look anywhere else. This company is the real deal.
Lee Dobyns
---
Steve,
Our new shelves arrived this morning and I LOVE them! Your associate, Chris, was wonderful! He took time to explain how the shelves would be installed and how they would work; he even helped me with suggestions on which shelves would function best at what heights. He was wonderful! Chris was neat clean, and efficient, also leaving the area he had worked in cleaned up.
Thank you for a fantastic product! And for a great solution to that tiring digging into the cupboard!
Linda and Chuck Schaum
---
Finished installing 22 base and shelf mount units. All were received as ordered, with all required parts in great condition. Quality is very good. I found it very useful to make some spacing jigs out of plywood to get the spacing correct between the tracks. This might be an item you could sell as an option to the shelves.
Just ordered 3 more for my shop work bench. I may reinforce bottoms for this heavy duty application although I really don't think it is probably needed.
Great product.
Jim Yeagle
---
Steve,
I have just completed installation of six shelves and hardware in our pantry. Awesome product quality, fit and finish. No issues whatsoever during the install. Best of all, my wife loves this. It was worth the research to find a product this nice.
The biggest chore was cutting 1/8" off new metal shelf support pins I had waiting to replace plastic ones once the sliding shelves were mounted to my existing fixed shelving. I nailed 1/4 round wood about 18" long to the cabinet back to prevent my fixed shelves from lifting when the sliding shelves are extended. Works great and I can even remove the fixed shelves without disturbing their position.
Thank you for your timely support.
Alan
---
Hey Guys - GREAT shelves! Just rec'd our order, much earlier than we anticipated, and love the shelves. We mounted the 3 base shelves and realized that simply mounting the middle sliders to existing shelves would be the easiest solution for us. Can we get another 6 of the L brackets that allows the rails to bottom-mount, plus the dozen screws to attach them to the rails?
Again, great job on the shelves. My wife commented how nice it was to get such a high quality item custom-made IN AMERICA, especially in such a short time.
Thanks - Norm
---
Steve, hello. Just wanted to thank you for your help with my shelf order. I installed them over the weekend and they are perfect now. Thank you, I appreciate it. TC
---
Dear Shelves That Slide gurus,
I received our custom shelf today and I've already installed it. It is fantastic. Thank you for making such a great product and delivering it ahead of promised time frame. It sure is strong. My wife has enjoyed riding on this one all afternoon. I keep reminding her that we agreed it was for the canned goods in our pantry, but she don't listen. Do you have any with a seatbelt?
I might be ordering some more.
Warm regards,
-geoff
---
A truly fantastic business you have. I just received my first order. I'm so glad I saw your ad in the back of a magazine at the doctor's office.
I can see that my first shelf fits perfectly. I'll try to install it during the three day weekend. Then I will order more.
I'm glad your company is online. Also, I can't believe how quickly my first order shipped.
Brian Tsai
---
I received my shelves and already have them installed. I love them. Thank you so much for all your help.
Gayle
---
Hi Steve and team,
I finally installed the shelves from your company and I wanted to provide a testimonial. These shelves are fantastic and I wish we would have ordered them years ago!
They were not too difficult to install and they work like a dream. I appreciate you working with me to let me return and exchange the first order which I ordered at the wrong size. You and your team were helpful in answering my questions and helping me figure out the proper dimensioning for my shelves. I highly recommend these shelves to others. I do think the full extension shelves are the way to go and allow you 100% access to items placed deep on the shelf.
I would also make the following suggestion, if you are ordering numerous shelves for the first time, consider ordering just one or two shelves first so you can see if you got the size right and if you like the style.
Thanks again for the quality workmanship and the support!
Mohan
Mountain View, California
---
They arrived yesterday evening, beautiful sir, thank you will share your service with other in the area
JOE CARNAHAN
---
I wanted to let you know how impressed I am with your shelves that slide even though right now I am so tired I can hardly stand it from installing 10 of the shelves since lunch time today.

I ordered your special of 10 premium shelves to fit into my 3 cabinets - two are double cabinets. I discovered my measuring capabilities need improvement (much to my husband's dismay), but with your excellent instructions for how to use spacers on the front cabinet slider all are installed and already filled!
We have the half-shelf in all cabinets so needed to reinforce them and since I wanted to store Corning Ware and other heavy glassware, we decided to add bracing. We did this by screwing 1x2's under all 3 sides of the shelf and then screwing the shelf into this new bracing. Thanks to 2 battery-operated drill drivers (one with a drill bit and the other with a phillips screw driver head) and my husband, that was accomplished in short order.
I then set about to install the shelves, and was able to do so without the hubby's help. The first shelf was the most difficult, of course, but the others were easier once I got the hang of it. Your instructions are REALLY good, and I had read others' comments beforehand, so that helped as well. The way we braced the half shelf makes the upper sliding shelf as sturdy as the bottom one - as we say in the South, "these shelves are like Country Music, they are here to stay!"
I am SO HAPPY with the quality of these shelves and that they are made in the USA. Thank you for making such a quality product!! I can't wait to show these off and will enthusiastically recommend Shelves That Slide!

Sincerely,
Kel Locklar
Mobile, Alabama
---
Steve, absolutely love the pantry shelves. Was so easy to install! I would like to install the more in my kitchen. I have a base cabinet that opens from both sides. Do you make a slide that pulls from both sides?
Shelby
---
Hi Steve,
I just wanted you to know that the shelves arrived today. Perfectly cut and fitted. Hung the two shelves in about 30m. They look and work great!
Thanks!
-George Cooke
---
Hello,
My shelves got here yesterday and I installed them. I just wanted to send a note and say thank you! They really exceeded my expectations, they're solid, well made, and solved my problem exactly. I really appreciate a real solid product.
Cheers,
Kate
---
Thanks Steve~ We got them installed and they are GREAT!! Will be ordering a few more!
---
I bought and installed seven of your shelves. At first I ordered just two to check them out. They arrived with roller damage to two sliders thanks to rough handling on the way. You immediately sent new sliders, no questions asked. I was impressed with your shelves and with the service so I ordered more.
I think I read someplace that it should take about five minutes to install one shelf. That may be true if you are not a 79 year old man whose body doesn't want to kneel on the floor with head and shoulders buried in a cabinet at awkward angles! It took me considerably longer but by gosh I did it.
I am pleased with myself and especially pleased with the shelves. Most anyone can do this. Just take plenty of time, being careful to follow instructions which are really pretty simple. I highly recommend your product and and am impressed with your service. One company I got an estimate from would have charged me over five times as much to do the job. Thanks so much!
God bless...
Bob Johnson
---
Just a short note to you.......back in April of 2009 we ordered and installed four of your premium sliding shelves in our home in Newport, Oregon. Perfect fit, installation, and those shelves are working perfectly today. In August, 2013 we moved to Sparks, Nevada, bought a home with NO sliding shelves in the kitchen cabinets. So.....we ordered 20 sliding shelves from you, and I've just finished installing the last one.....my wife is very happy, I'm pleased with my work, and your product is by far the best on the market! Everything was accurately manufactured, fit perfectly, and I installed all 20 units in less than a week. Pretty good for an 80 year old self-handyman, wouldn't you say? The shelves arrived in perfect condition; same great quality, and your packing is great, which shows a real interest in delivering your product as advertised! GOOD JOB!
Thanks for the accuracy and quality of your product. As we show off our new sliding shelves to the neighbors and family, we'll definitely recommend your company to anyone interested in a fine USA product. THANKS.
Pat McKoy
---
The slide out shelves arrived yesterday and today they are installed! They were so easy to install and make such a difference in our kitchen storage. The quality is excellent; I would highly recommend these...thank you.

Susan Ryan
---
I just received my order yesterday and installed my shelves today, It took about 1/2 hour and was really easy; I went from your instructions of start at the right and they went right in. I love them; I like that they are not painted so I can decided what finish to be on them later. I will recommend them to everyone,. Thanks for a great product.

Lisa M Adams
Port Huron, MI.
---
my husband and I age 63 and67 just installed our shelf. It was a piece of cake. Thank you so much for this product. It is worth every cent.
Millie Hammel FL
---
Have your ears been burning ?? I have been online/ on the phone all weekend bragging about my wonderful shelves that slide that we just installed.
they look fabulous and I have to say worked well for retro fitting into cupboards in a 1920's Colonial home.
Good job to all those who made them - we will be ordering more.
Thanks again
Teri Martin



Click on the pictures for a larger view
---
Hi Steve,
Just a quick note to say thank you for allowing me to order the custom shelf.
I ordered via phone on Aug 12th and just received it today from UPS.
It is perfect and should work exactly as I had hoped.
Thanks again,
- Brian
---
Dear Shelves That Slide:
I've received and installed the two beautiful premium shelves that you provided; they work perfectly. The instructions for measuring, ordering and installing were easy to understand and follow. The only problem I've encountered is that I only received 3 "white plastic things" and I needed 4. Could you send me 1 additional white plastic thing?
Thank you:
Don Milligan
---
Nancy Rose loved her new shelves so much she had to send us the before and after pictures

I just wanted you to see how well your custom shelves worked for me. I got the measurements right and my 50 yr old Habitat builder daughter shimmed the hinge side with some wooden blind slats I had saved.

Sent the "after" pictures separately, from a different device, the tablet with the camera.

Thank you so much!



<![if !vml]>

<![endif]>
Before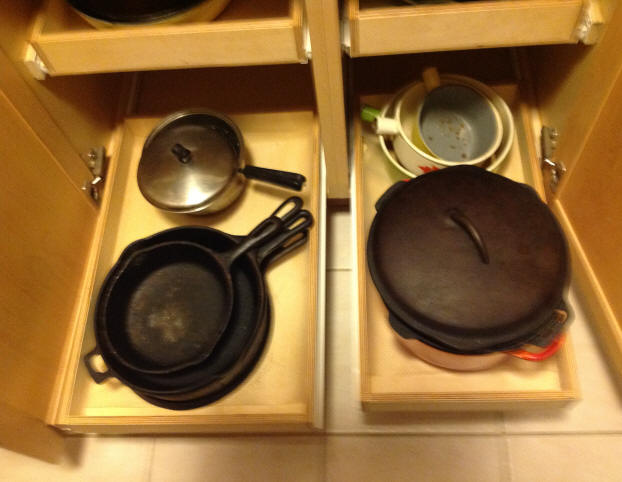 After - Lower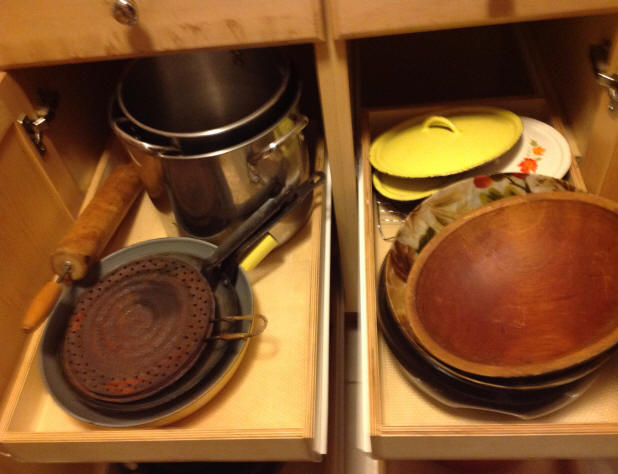 Upper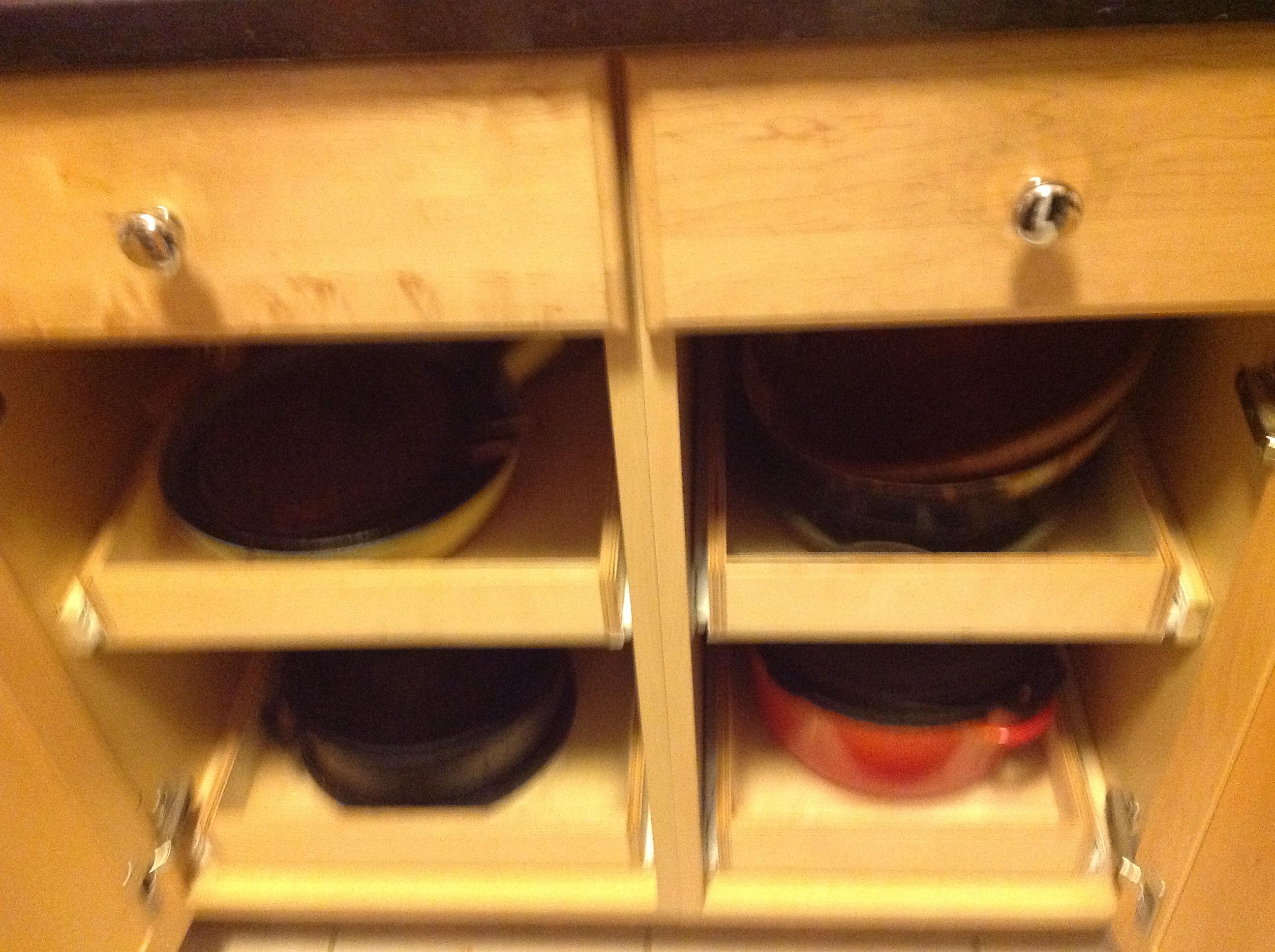 Closed - twice the space
---
Thanks so much for your speedy production and quality work. It took me awhile to find you online. I will recommend you to anyone and everyone who is looking for shelves that slide. Your shelves have helped me reach items that had been long forgotten since we moved to our house 23 years ago. These make so much sense-Thanks for making them!
---
Have your ears been burning ?? I have been online/ on the phone all weekend bragging about my wonderful shelves that slide that we just installed.
they look fabulous and I have to say worked well for retro fitting into cupboards in a 1920's Colonial home.
Good job to all those who made them - we will be ordering more.
Thanks again
Teri Martin
---
Hi Steve,
sorry for the tardiness of this message. Just a note to let you know that I was very satisfied with the quality, value and service of your product and your company. I've shown your installed shelves to friends and they were equally impressed. They told me they'll keep you in mind for their next project.
Thanks again. Keep up the good work,
Sincerely,
John Codiglia
---
Hi Steve, our shelves came Tuesday, April 23rd. We put two of the six in that afternoon. Then we rested a day! (we're older---so it was an effort getting down on the floor and trying to hold one thing while marking something or putting in screws) Today we put in the other 4. The four were much easier---we learned from the first two. We had 3 half-shelf and 3 bottoms shelves to do.
They are now all in and we love them! Somewhere I read they were 5 minute installation. I don't think even someone who is 25 could do these in 5 minutes, but I will say that it took less than 2 hours to do the 4 today.
I am so happy to not have to get down on my knees to get the stuff at the back on the bottom of the cupboard. Now I can just roll that baby out and pick up what I need---yay!!!
Thank you so much--they all fit perfectly!
The ironic thing about these shelves is that I wanted these in our last house and we never got around to getting them---we lived in Mesa! Now, here we are clear up in Nebraska and our shelves come from Phoenix!
Thanks so much for the great service. You need someone who knows punctuation to make some improvements in those instructions, though! A couple of places are very confusing because commas were left out. Also, there were places where the sentence should have ended, but it didn't.
We will enjoy the shelves!
Jill Brandt
---
I wanted to email you a testimonial about your fabulous product!
In a single afternoon, my husband and I were able to install 6 awesome sliding drawers in our kitchen cabinets. Most people would not be impressed to hear how easy installation is without understanding I was able to installed these while being 9 months pregnant!!! The base-mounted premium sliding drawers are very simple, straight-forward and well designed for do-it-yourself installation. I did the easy placement of the "L" bracket slides on the cabinet bases and existing cabinet shelves and my husband did the and drawer lifting and placement. Shelves That Slide's premium pull-out drawers are beautifully finished and 100% more convenient to use than my regular cabinet shelves! Before ordering from shelvesthatslide.com, I had received a quote from a custom sliding shelf/drawer company for $3000 to install 6 sliding drawers in my 36" wide kitchen cabinets. I was very pleased to find I could install the same quality and quantity of sliding drawers in my cabinets for 10% of the cost the custom sliding shelf/drawer company would have charged! Thank so much, Shelves That Slide!!!
Sincerely,
Lisa S.
---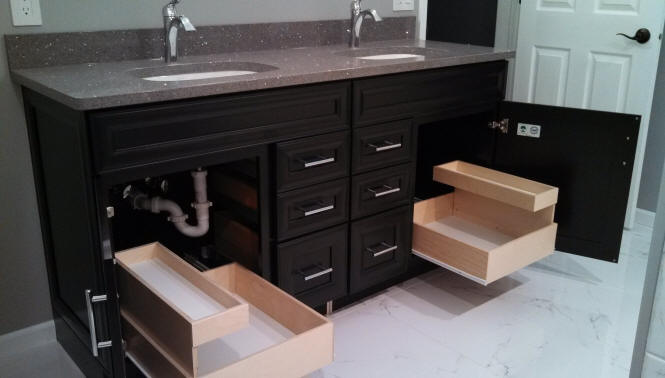 Just wanted to send a quick note with pictures and express how pleased I am with the quality of your product. You didn't have any bathroom vanity shots so here you go. Measured and installed myself, they're just what I wanted. Better than wire, complements the cabinet drawers, fits the full width with caddies, solid construction, quick turnaround and a reasonable price.

Thanks again,
Mark
Suburban Chicago
---
received and installed. thanks, they work great.
Tracey Grossi
---
Hello Steve,
I received a call from your company earlier and got the payment for "recut" items square away. Thank you for taking care of that!
Your staff said that the "re-cut" shelves are going out today.
Anyway, I love the results of my slide out shelves and have had many compliments! I would highly recommend "shelvesthatslide.com" to anyone!
Best regards,
Suphakarn
---
I would like to thank you for our shelving. I installed all four, the first two, 2 hours, last two one hour, with marginal bad words.
They have made a huge difference, more space, no climbing into the back.
The only downside was the brokerage fees from the border crossing.
Thanks again, Steve
---
Thank you very much! The order was fulfilled in a timely manner, the packages arrived within the expected estimated delivery timeframe, and installation of ten shelves only took a few hours (spread out over a couple of days). My wife and I are really loving the extra space these shelves have given us in our existing cabinets.
Thank you again from a satisfied customer,
Jack
---
Thanks for your help. I used the 1/2' wood and it worked fine.
My wife really loves your product.
John
---
Perfect! loved it all!!!
thanks
Christopher A.
---
It works and looks great.
Thank you
Mark Simon
---
I just wanted to let you know that I received my shelves and I absolutely love them! They are very nice quality and the installation went great. My husband installed the first 4 – and I did the last 3 myself!
You have a very nice product and I will highly recommend your shelves to my friends and family!
Thank you,
Judy Schnebelen
---
---
Thank you, Steve. We love the shelves. My wife gets excited each time I finish installing one. Tom
---
Hi I am an existing customer and I am going to order more shelves after i send this. I received the 2 I ordered and honestly by the time i Opened the package it took about 15 min to install both, Kudos to all of you.
Now I Have 7 drawers in the kitchen with bottom slides in the center the drawers open a bout 3/4 of the way and drag n sag. what i need are the guides that will allow the drawers to come out full like the shelves, All the drawers have 1/4" clearance on each side, all are 20" long from the back to the face that contacts the cupboard, and the dimension from the front of the cabinet is 23 3/8" and the slides will have to mount at the rear of the cabiney, Can you make this work?
Thanks in advance and I'm off to the next order for shelves.
John Neal
---
Subject: Shelf Order 47389
Ordered twenty shelves to cover our kitchen, bath, and bar areas. They were shipped quickly, with lots of packing to prevent damage. Having previously worked as a cabinet maker and installer, I was pleasantly surprised at the quality of the shelves and brackets. I installed nineteen of the shelves in less than a day. Would have gotten the last one installed, but I was able to step on the brackets as they lay on the floor - bent them "nicely!" Called your service and the gentleman was "amused" at my dexterity. I offered to pay for the two replacement brackets, but the gentleman sent them at no charge. Another pleasant surprise.
You are to be commended for being a producer of quality products, at a fair price, and proudly made in America.
I talked to you at least twice prior to buying to insure what you had was what I needed. It was! All conversations I have had with you have been pleasant, professional, and informative. You should all be proud to be part of such a fine company.
My thanks to you all for a quality product, and quality people to deal with.
David L Thomas
---
Couldn't be more pleased! I took your website advice and only ordered one Premium shelf since I was a little skeptical about both your quality and ease of installation. Well, I was extremely pleased on both counts and so I ordered six more. They came and were quickly installed in my kitchen. (I even thought the installation was kind of fun!) The shelf construction is first-rate and they look great with the nice lacquer finish. It sure is nice to do business with a company that makes such a nice product - your pride is well-deserved.
Robert Yountz
Hickory, NC
---
p.s. I should say my husband installed the rest of the sliders yesterday and I absolutely love them!
Now my cabinets are organized and I can see what I've got in there. Makes cooking a much more enjoyable task.

Theresa
---
Hi Steve & Doug,

My order of 10 shelves came in 2 boxes. One box included a pack of screws and 10 door protectors. The other box did not. I thought the other box should contain another pack of screws and 10 more door protectors and called to get more. It wasn't until I began installing the shelves that I realized my mistake.

BTW - the shelves are fantastic. My wife says she loves them. Happy wife...

Thanks,
Jeff Robertson
---
Got my shelves at 330 and had them in by 430. Love them already!!
From Jeanne's iPhone
---
I received your product this pas Friday and installed the product on Saturday. I had ordered 2 slide out shelves for pots and pans. The quality was excellent and the install was fast. I plan to order more for other cabinets.
Greg Dietrich
---
Thank you for this terrific product. My wife and I installed ours this morning. We bought (order number 48827) three Newline sliding shelf systems and followed your invaluable directions. Took us a couple of hours. The most difficulty was in preparing the pantry cabinet to receive the slide outs. We had to remove the adjustable shelves and trim them about an eighth of an inch; and we had to bore out the quarter-inch shelf-clip holes so the shelf clips would fit deeply enough. Once all that was done, assembling the guides to the adjustable shelves was the easy part.
George and Nancy Ford
---
I just wanted to Thank You for the selves that I ordered. I installed three of them in about 1 1/2 hour and used the suggest of using tape to hold them in place and it worked great. Very Pleased with the product and if I need more I know just where to go and will refer friends to you. Thank You Gary H. Ayers
---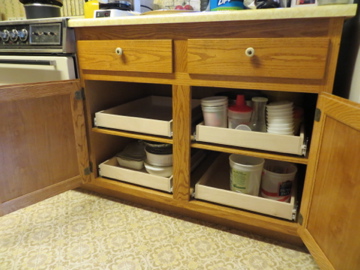 Steve,
We received our shelve order on the 20th, and I completed the installation on the 23rd. We are pleased. It will make our trips to the cupboard much more pleasant. I have attached a photo of our project.
Edd B,
---
Thanks, everything else is just fine. Your drawers are very well made and have made such a difference in my cabinets. As a person gets older it gets harder to get down to get what is in the back on those little half shelves. Thank you.
Lana
---
We installed the sliding shelved in our previous house. After we moved here, my wife missed them so much she asked me to order them again! They installed like a dream and look great, too.
Thanks!
Jerry Dykstra
---
Hello: Just wanted to say thank you for fine products, fast shipping, fantastically packed boxes, and instructions that were great! I have been re-building a condo for my sister-in-law [wheelchair], and put the pull-out shelves in the kitchen.
We are very pleased with the products and wanted to send our THANK YOU to you all! See photos.
Jerry Davis [buyer] Kathy Salkin [ sister-in-law ]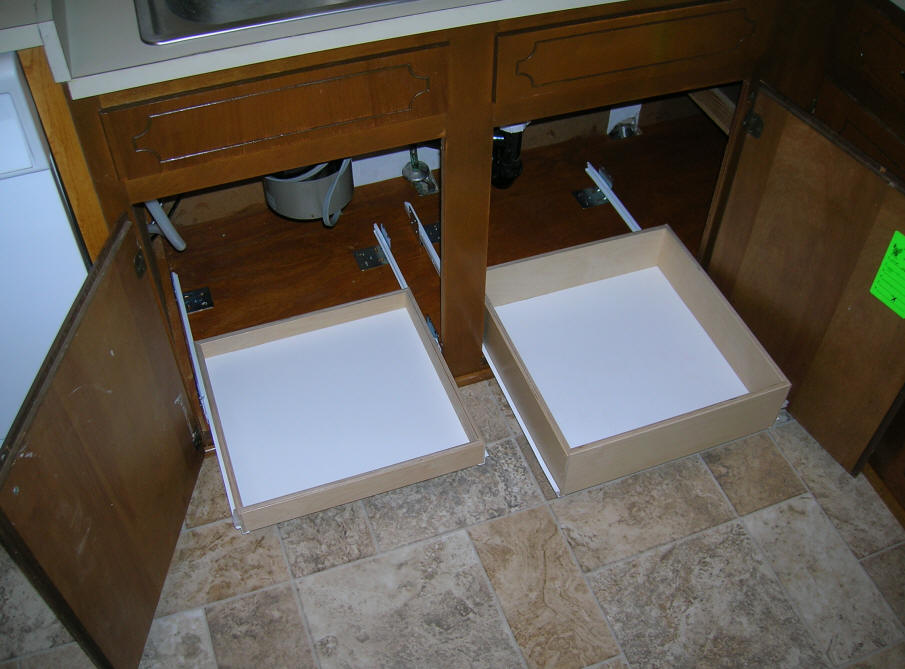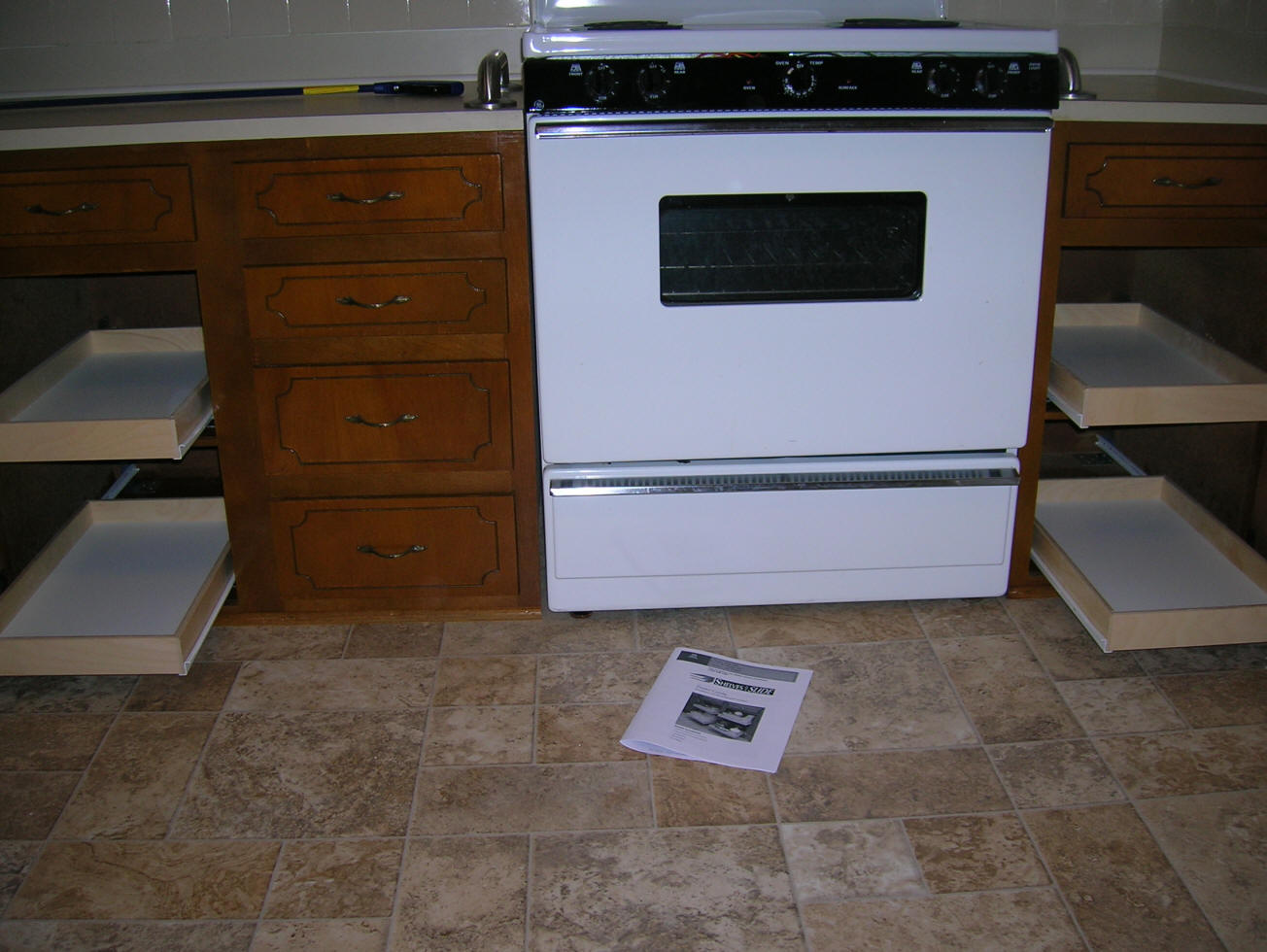 ---
Hi Steve,
I am so HAPPY with my STS – Here are some pictures of the finished pantry – I am going to paint the fronts with chalkboard paint to use for labeling – that way I can change!
Again, thank you for your help! As soon as I can find more places to use these, I will order more!!
Here is the blog post I created for the project
https://followmydot.com/2013/01/25/who-needs-a-coat-closet-at-the-beach-shelves-that-slide/
Melissa Dotson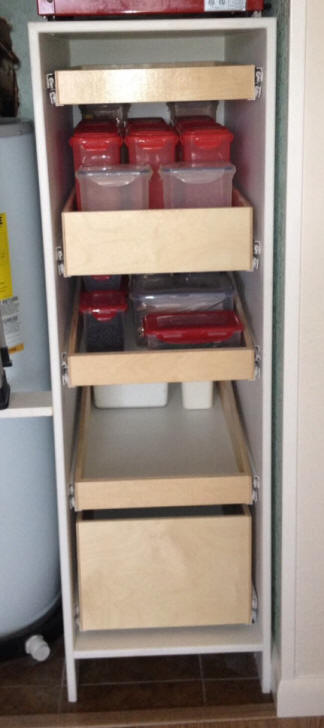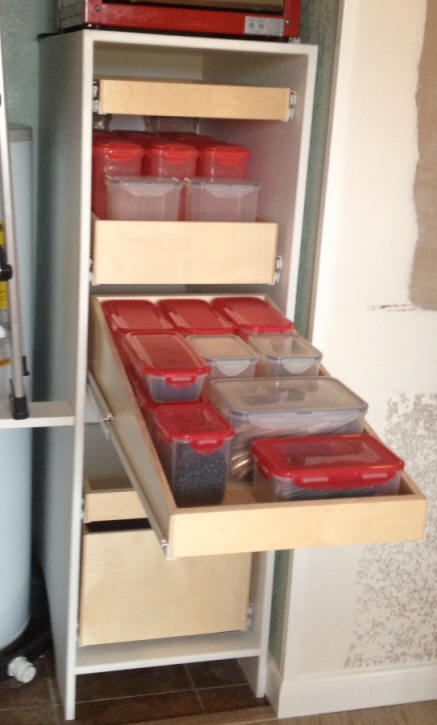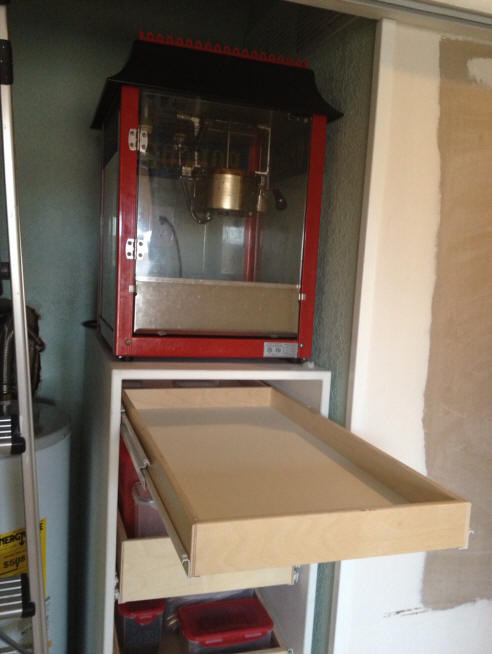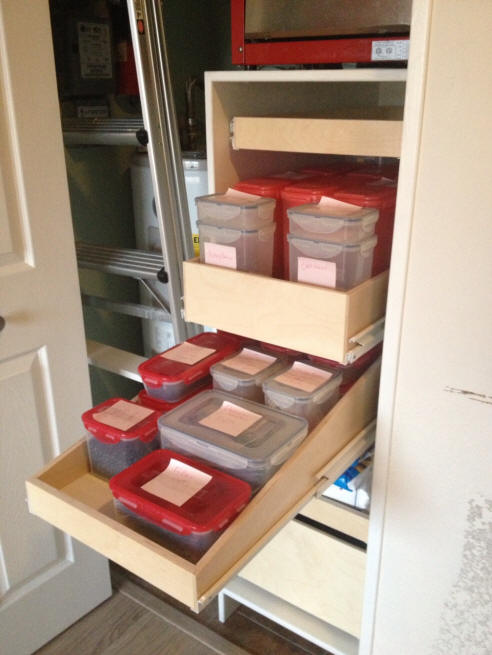 ---
Hi Steve,
I want to thank you all for the fantastic error free job. All the shelves fitted perfectly.
I wanted to let you know for the fantastic job.
Regards,
Dinesh
("Find a purpose, the means will follow - M.K.Gandhi")
---
I just wanted you to know that I love love love the shelves. They were easy to install, and my husband said, "why didn't we do this 15 years ago?" So THANK YOU, and I do plan to order some more in the future. My daughter wants some for her cabinets and it's on her Christmas list for next year. Best. Improvement. Ever!
Rita Holland
Thanks again, you guys, you do good work and are so responsive. It's nice in this day and age to get such great customer service. (You can use this comment, too, if you want :-) )
Rita
---
Finally got my shelves installed - they are FANTASTIC!!!!!!!!!!!!!!!!!!!!!!!!!!! So glad I found your company online!! You've made my kitchen life easier :)
Rebecca Boyett
---
Ok these are the best thing i think i have bought for my house so far. I installed them in one day, from emptying the pantry to refilling it with installation in between. Took a little work but so worth it

thank you Shelves that slide!
---
Hello,
Just wanted to tell you that the shelves I ordered fit and worked perfectly. We were surprised that all the bake ware that was stuffed into the cabinet before fit easily in the new shelves.
Thanks,
Richard Salsbury
---
I received the order Thursday, 12/6 and installed one pair of shelves on Friday and the other pair, today. No problems! Not bad for an 82 year old guy with a few stents in his arteries, eh!
Al Cinquepalma
Cary, NC
Not bad at all Al, great job!
---
Received yesterday and installing today. Very, very nice! Thank you!
Pam
---
Thank you for your prompt service and delivery! Your product is terrific and the information on the website for installation was most helpful. The drawers have been installed and are being used daily - much to our pleasure.
Lee Welch
---
Steve,

Got the support piece today. I really appreciate you going the extra mile! I got my full slideouts installed yesterday, will be installing the half slideout today with the support piece. I was impressed by the packing job and am happy with the quality of the shelves as well. I plan on getting more in the future and will definitely be using you guys. Thanks again.

-Wes
---
Thank you! I received the shelves and they are installed now and could not be happier. My husband is a carpenter and commented on how well they were made! Thanks again:)
---
We received our shelves and are so pleased with the service and quality.
We passed this information on to others. . .
Many thanks,
Donna Carter
---
Steve,
Received the plastic wedges and replaced the cracked wedge. I have attached a few photos of the shelves that I installed.
Thank you
Frank




Click on the pictures for a larger view
---
Thank you for a product that is very well made, and expertly packaged for shipping. I don't normally provide feedback on products I purchase, but I was so impressed I had to write.
James Wheeler
---
The shelves you sold us were stained to nearly match the cupboards and have worked out great.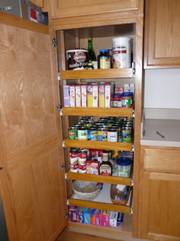 Thank you.
Wayne Steiner
---
Sir,
We received the shelves in great condition due to your excellent packaging process! All shelves were cut to the exact size requested and due to your detailed installation instructions, even I could install them. I think I even impressed my wife!!
Give everyone a raise and half a day off :-)
Best wishes,
Gerard
Well we did not give everyone a raise and a half day off but we did do a nice Barbeque for lunch and the crew thanks you!
---
Good morning.
Thank you for your recommendation. I bought and installed the 225. It is the perfect choice for what we needed. I will be sure to recommend you and your company to anyone who needs help like I did.
Thanks, again.
Barron
---
Hi,
We are so pleased with our purchase of the Two-Tier Basket and the Chrome pull-out basket made by Rev-a-shelf. Our cabinets weren't wide enough for pull out wood shelves. I have a 27 inch double door base cabinet with a face frame. I used the double basket on one side and the single on the other. The single was so easy to install. We just used a drill for pilot holes and a screw driver. The double basket was a little tricky. The first installation was too far forward and the door would not close completely with the metal frame bolted to the face frame. We added a block to the back of the frame and recessed the baskets deeper into the cabinet. It works really well and I'm so glad that the base cabinet is much more useful.
The quality of the product was exceptional. Very heavy duty!
Thanks so much!
Shelly
---
Hi Steve, I received the shelf and just now finished installing it. I've wanted this for so long,
I thought I'd share the final results with you since you were so kind to accommodate my special request.
THANKS LOADS it's exactly what I wanted.
Alicia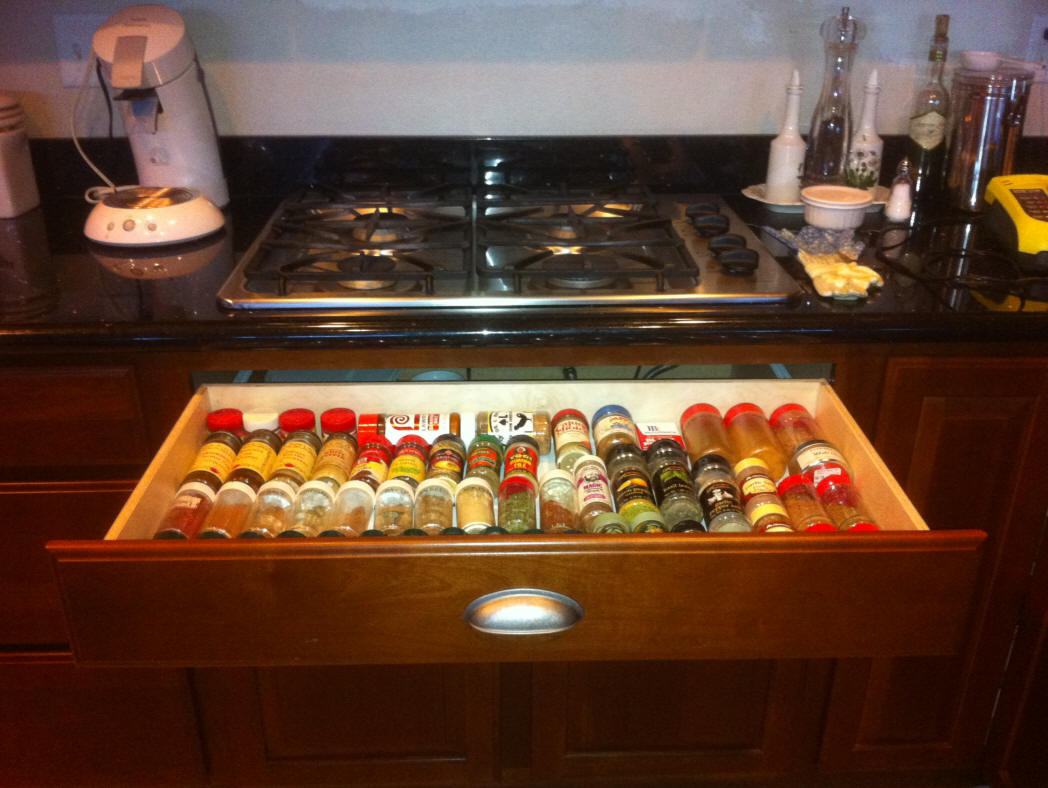 This is one of our 4 7/8" shelves but we reduced the height to 4". We can adjust the height of pour pull out shelves to meet your needs. The 3 1/2" pullout that we recently added would work in this situation. This space also works great for cooking utensil storage. It is common to be limited to a 16" deep shelf because of electrical or gas lines. They can be installed on 22" slides so that they can be rear mounted. We can go up to 6" in difference between the slide length and the shelf depth. For example a 14" deep shelf can be ordered with 20" slides
---
I have been looking for something to hold my garbage can for the tiny cabinet next to my sink since we have moved into our house 13-1/2 years ago! For all these years, I have used paper bags in that space, which I need to pull out to put the garbage in. I have always thought it would be wonderful to have some type of pull-out shelf but have been unable to locate something so narrow. While reading my Guideposts magazine a few weeks ago, I saw your ad and went to the website. Imagine my delight when I saw your 20 quart dual use 8 5/8" or 14 5/8" wide shelf. This is exactly what I have been searching for! Shipping was fast, installation a breeze and after almost 14 years, I have just what I always wanted. Thank you!
Kristy
---
I received the shelves and they went in easily and quickly. They work beautifully. Thanks for making such a top quality product.
Sincerely,
Mark Rubin
---
Dear Sir or Madam:

I recently purchased 7 sliding shelves for our kitchen. It took about a day (working slowly) to install them. I found the instructions for measuring, ordering and installing easy to understand. The product is top quality. We are very pleased with our purchase.

Sincerely,
Ralph
---
You are welcome. You have a good product and great service. Richard made sure my order was available for a pick up today and install tomorrow. Very happy. Thank you.
---
THANK YOU FOR THE INFORMATION, IT WAS AN EASY INSTALL AND WE ARE VERY HAPPY WITH IT
GEORGE AND ESTHER STEVENS
---
Works beautifully. Thanks for all your help and customer concern.
Know that I understand the systems I will be back for more.
Great company!!!
Mark
---
I received the order Thursday, 12/6 and installed one pair of shelves on Friday and the other pair, today. No problems! Not bad for an 82 year old guy with a few stents in his arteries, eh!
Al cinquepalma
Cary, NC
---
You are working my second order at this time (Order #24795) and I thought that you might be interested in how I installed my first order from you in our kitchen. I am 83 years old and not as limber as I was years ago, so crawling down on the floor and up on ladders to fit the L-brackets in place needed some thought, so I decided to cut some 1/4 inch plywood sheets the same dimensions as the shelves and mount the left & right L-brackets in place on the kitchen table using #8 x 1/4 sheet metal screws ensuring that the sliding shelves would slide correctly in and out. When working properly I used a good waterproof wood glue to mount the unit in place onto the fixed support shelf. I spray painted the piece of plywood to match the cabinet and used cans of fruit, etc, to hold the unit in place until the glue set. My back survived the installation and all five sliding-shelves are doing fine - according to the wife! Do you produce a sliding shelf to hold dishes vertical in a kitchen cabinet?
Anyway - your sliding shelves are great!
Byron D. Lott
---
Thanks for the prompt service. the shelves have been received and installed.
A great product very easy to handle and installed in moments thanks!

Regards
Paul Dugdale
---
My wife and I really liked the shelves and just ordered two more. The only thing I would recommend is that you make the pictures in the brochures you send with the shelves clearer. They are pretty dark. Otherwise, the shelves were easy to install. One thing my wife and I commented on was: Golly, finally, a company who ships what you order, with all the right parts, all the right accessories and, good quality to boot. We never mind paying good money for good quality and good service because we get good value for our dollar.
Thank you
John and Nina Raeth
---
Just wanted to say thanks! I received my slides one day and had them installed the next. They are well built, the installation instructions were right-on, and the finished product looks great.
Jim
---
Today we received our shelves. I have only installed one so far, but will complete the task tomorrow. I'm impressed with the construction of the shelves, the shipping box in which they were sent, and the price we've paid. Good job. Thanks.
---
Dear Folks at Shelves that Slide:
The replacement shelf came today and is in perfect order. Thanks so much for your response. I look forward to dealing with you in the future.
David Tanner
---
---