For the top quality pull out shelf roll out shelf slide out shelf or sliding drawer the name to trust is Shelves That Slide
We stand by the quality of our slideout shelves for your kitchen cabinet and back them with the best warranty in the business
We do not offer quantity discounts on our sliding shelves to entice you to buy all of your shelves before you see the quality and you are sure you are measuring correctly. We prefer that you order one rollout shelf for your kitchen cabinets and try it out. We are confident in the quality of our sliding shelves and we do not feel we need to encourage you to buy more than one sliding shelf for your first purchase as we are sure you will come back to Shelves that Slide
Customer reviews of Shelves that Slide (for more comments see our testimonial page)

(These are actual testimonials from our customers)
Good Morning, I installed these over the weekend. These are wonderful.
Nice quality, smooth operating and easy to install. They exceeded my expectations.
Thanks!
Kurt
Shelves arrived yesterday in excellent condition. Installation took about 2 hours. About half of that time (I'm 80 yrs old) was trying to get down & up off the floor. Other then that, it was relativity easy. Thank you for an excellent product.
Walter Roeske
Hello Steve,
I want to write about my experience with your company. Recently I purchased 10 pack premium shelves from Shelves That Slide. I have few minor issues with the order and I called customer support few times. Each time I called, I had very pleasant experience. Both Devin and Diana understood my issue/concern, not only they assured me that they will take care of the issue but they did indeed took care of them.
The quality of he product is important to customers, but the customer services is equally or more important. Please convey my appreciation to your customer service team - Devin and Diana - for job well done.
Please let me know if you have any question.
Regards
Mayen
Hello,
My shelves arrived yesterday (perfect pantry pack + 3 premium shelves), less than 2 weeks after I ordered them. I just wanted to say how impressed I am with the quality of your product.
These shelves are absolutely top notch. I am not only pleased with the product, but your service and expedient delivery as well.
It really was a pleasure doing business with you,
Rob Rombough
Thank you, i am going from a walk in panty to just a large cupboard pantry and I really need these. We installed shelves that slide in my mothers kitchen for her 7 years ago and she loved them and they made her life so much easier. We have a whole kitchen to go yet but are spreading it out so as not to break the budget. You will be getting several other orders from us!
Sheila from Texas
Dear Sales,
I live in CO and bought 11 shelves. The shipping was fast. The packing was great.
I just finished installing them. I can't believe they came out that nice. My wife and I are very happy with the look. I wish there was a way to leave your company a great feedback online. Maybe you can post this email.
I will be recommending you to all my new neighbors, in our new development.
Best Regards
Manoj P
Thank you!!! I received the shelves and installed them immediately. They are absolutely fantastic.
They have made the cabinets of this 1976 kitchen look and act like it's a "modern kitchen".
No more envy.........we love our "new kitchen" shelves.
Will be looking at ordering more to update the rest of the kitchen cabinetry.

Regards,
D.E. Orange Park FL
My wife was having an organizational problem in our rv pantry. Your shelves solved the problem. Plus, they were a snap to install.
Thanks
Phil Grove
Arrived very quickly and installed in 12 minutes flat. My wife loves them!
Thanks for making me look so good
Dr Lawrence Ruehlen, Happy Michigan customer
Hello Steve,
I was successful in installing the roller shelf for my garbage can. This is such an improvement. Thank you for your help.
Sincerely,
Sue Grazioli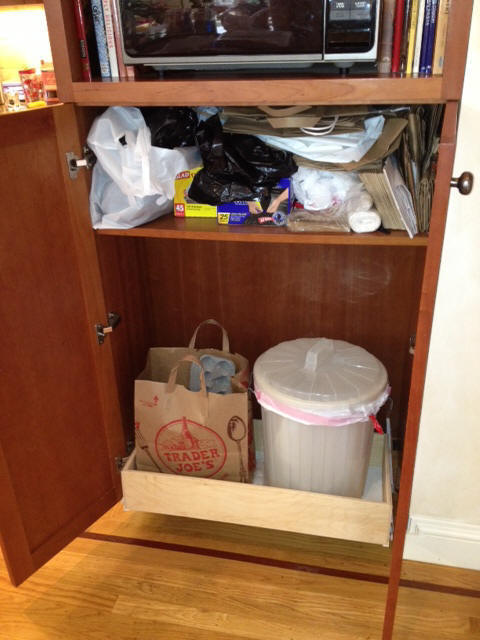 I called earlier today to order some rear mounts. The way I was going to mount them did not workout. Instead of telling the customer they made a mistake and I did, they solved the issue without charge to me. This was a complete surprise in todayís business environment. Shelves that slide have far exceeded my expectations in the following areas. Please use this feedback as you please.
1. 1. Price. About Ĺ of everywhere else.
2. Quality. Excellent materials and construction.
3. Shipping. Strongest and most protected shipping materials and methods Iíve seen. It looked so nice I did not want to cut it open.
No possible change of damage unless they dropped a house on it.
4. Support. Will solve the customers issue even if they caused it.
5. Installation. Easy.
If you need a aftermarket shelf do not look anywhere else. This company is the real deal.
Lee Dobyns
Terri Mullings
Steve,
Our new shelves arrived this morning and I LOVE them! Your associate, Chris, was wonderful! He took time to explain how the shelves would be installed and how they would work; he even helped me with suggestions on which shelves would function best at what heights. He was wonderful! Chris was neat clean, and efficient, also leaving the area he had worked in cleaned up.
Thank you for a fantastic product! And for a great solution to that tiring digging into the cupboard!
Linda and Chuck Schaum
Finished installing 22 base and shelf mount units. All were received as ordered, with all required parts in great condition. Quality is very good. I found it very useful to make some spacing jigs out of plywood to get the spacing correct between the tracks. This might be an item you could sell as an option to the shelves.
Just ordered 3 more for my shop work bench. I may reinforce bottoms for this heavy duty application although I really donít think it is probably needed.
Great product.
Jim Yeagle
Steve,
I have just completed installation of six shelves and hardware in our pantry. Awesome product quality, fit and finish. No issues whatsoever during the install. Best of all, my wife loves this. It was worth the research to find a product this nice.
The biggest chore was cutting 1/8" off new metal shelf support pins I had waiting to replace plastic ones once the sliding shelves were mounted to my existing fixed shelving. I nailed 1/4 round wood about 18" long to the cabinet back to prevent my fixed shelves from lifting when the sliding shelves are extended. Works great and I can even remove the fixed shelves without disturbing their position.
Thank you for your timely support.
Alan
Hey Guys - GREAT shelves! Just rec'd our order, much earlier than we anticipated, and love the shelves. We mounted the 3 base shelves and realized that simply mounting the middle sliders to existing shelves would be the easiest solution for us. Can we get another 6 of the L brackets that allows the rails to bottom-mount, plus the dozen screws to attach them to the rails?
Again, great job on the shelves. My wife commented how nice it was to get such a high quality item custom-made IN AMERICA, especially in such a short time.
Thanks - Norm
Steve, hello. Just wanted to thank you for your help with my shelf order. I installed them over the weekend and they are perfect now. Thank you, I appreciate it. TC
Dear Shelves That Slide gurus,
I received our custom shelf today and I've already installed it. It is fantastic. Thank you for making such a great product and delivering it ahead of promised time frame. It sure is strong. My wife has enjoyed riding on this one all afternoon. I keep reminding her that we agreed it was for the canned goods in our pantry, but she don't listen. Do you have any with a seatbelt?
I might be ordering some more.
Warm regards,
-geoff
A truly fantastic business you have. I just received my first order. I'm so glad I saw your ad in the back of a magazine at the doctor's office.
I can see that my first shelf fits perfectly. I'll try to install it during the three day weekend. Then I will order more.
I'm glad your company is online. Also, I can't believe how quickly my first order shipped.
Brian Tsai
I received my shelves and already have them installed. I love them. Thank you so much for all your help.
Gayle
Hi Steve and team,
I finally installed the shelves from your company and I wanted to provide a testimonial. These shelves are fantastic and I wish we would have ordered them years ago!
They were not too difficult to install and they work like a dream. I appreciate you working with me to let me return and exchange the first order which I ordered at the wrong size. You and your team were helpful in answering my questions and helping me figure out the proper dimensioning for my shelves. I highly recommend these shelves to others. I do think the full extension shelves are the way to go and allow you 100% access to items placed deep on the shelf.
I would also make the following suggestion, if you are ordering numerous shelves for the first time, consider ordering just one or two shelves first so you can see if you got the size right and if you like the style.
Thanks again for the quality workmanship and the support!
Mohan
Mountain View, California
They arrived yesterday evening, beautiful sir, thank you will share your service with other in the area
JOE CARNAHAN
I wanted to let you know how impressed I am with your shelves that slide even though right now I am so tired I can hardly stand it from installing 10 of the shelves since lunch time today.

I ordered your special of 10 premium shelves to fit into my 3 cabinets - two are double cabinets. I discovered my measuring capabilities need improvement (much to my husband's dismay), but with your excellent instructions for how to use spacers on the front cabinet slider all are installed and already filled!
We have the half-shelf in all cabinets so needed to reinforce them and since I wanted to store Corning Ware and other heavy glassware, we decided to add bracing. We did this by screwing 1x2's under all 3 sides of the shelf and then screwing the shelf into this new bracing. Thanks to 2 battery-operated drill drivers (one with a drill bit and the other with a phillips screw driver head) and my husband, that was accomplished in short order.
I then set about to install the shelves, and was able to do so without the hubby's help. The first shelf was the most difficult, of course, but the others were easier once I got the hang of it. Your instructions are REALLY good, and I had read others' comments beforehand, so that helped as well. The way we braced the half shelf makes the upper sliding shelf as sturdy as the bottom one - as we say in the South, "these shelves are like Country Music, they are here to stay!"
I am SO HAPPY with the quality of these shelves and that they are made in the USA. Thank you for making such a quality product!! I can't wait to show these off and will enthusiastically recommend Shelves That Slide!

Sincerely,
Kel Locklar
Mobile, Alabama
For the top quality pull out shelf roll out shelf slide out shelf or sliding drawer the name to trust is Shelves That Slide
We stand by the quality of our slideout shelves for your kitchen cabinet and back them with the best warranty in the business
We do not offer quantity discounts on our sliding shelves to entice you to buy all of your shelves before you see the quality and you are sure you are measuring correctly. We prefer that you order one rollout shelf for your kitchen cabinets and try it out. We are confident in the quality of our sliding shelves and we do not feel we need to encourage you to buy more than one sliding shelf for your first purchase as we are sure you will come back to Shelves that Slide