European slides - Epoxy Coated (our standard slide)
European slides come in both 3/4 and full extension versions. As the title suggest they are epoxy coated and the are available in several colors. The rolling system uses nylon wheels, one wheel on each member. These slides are captive on one side (usually the right). This means the wheel on the captive side rolls in a groove and is kept in place side to side. The other side of the slide is free so that it can move from side to side on the runner allow for tolerance if the shelf or the cabinet are not perfectly parallel to each other and to allow for easy installation. The epoxy slides that we do not like are slides that are captive on both sides (dual captive slides). There must be some side to side movement as the shelf slides in and out and since both sides are captive the wheels must be able to move side to side on their axles. To accomplish this the axle length is increased to allow for the adjustment. The extra extension on the axle can provide more leverage and allow the axle to bend. This can give a bad name to a good slides. One of our local competitors uses slides like these and we have gone out on jobs to replace all of the shelves as the axles have bent over time. There are standard and self closing versions of these slides. Higher quality slides such as Blum and Grass use thicker steel and a larger diameter axle pin on the wheels. Cheaper versions have allot of flex in the slides due to the thin gauge metal and use a small diameter axle pin. It is not that easy to tell the difference in quality and some major companies are using some of the cut rate slides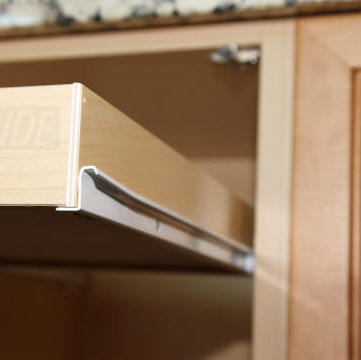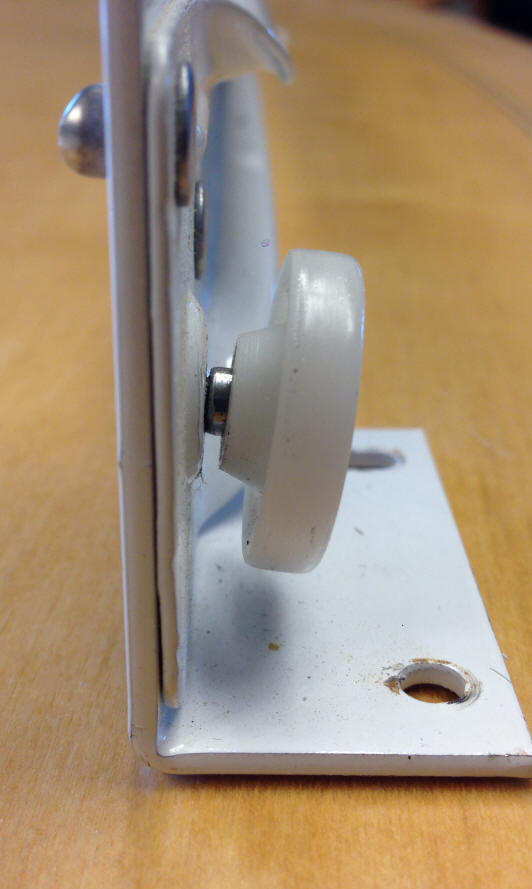 Here is an example of a dual captive slide fail

Cost $$ - high quality 3/4 extension slides are affordable while the full extension are quite pricey
Mounting - the 3/4 extension slides can be side mounted with spacers, base mounted with L brackets, rear mounted with plastic sockets and they are half shelf install friendly. The full extension version is much trickier to install and there is no rear mounting available. Half shelf installations are difficult as there is not hole in the very front of the slides
Pros
Wrap around support - European slides wrap around the side of the shelf sides and actually become part of the shelf structure. They do not just screw to the side of the shelf.
Gravity self close - The self closing slides have a slight drop in the back of the cabinet member and the front of the shelf member to use gravity to pull the shelf closed the last couple of inches. Since gravity does not wear out the self close feature works the same when first installed as it does 20 years latter.
Few moving parts - The European slides have a wheel on each slide member. The 3/4 extension have four slide members (Cabinet Left and Right and Drawer Left and Right). This means there are only four moving parts on the 3/4 extension and 6 on the full extension slides.
Cons
Price - While high quality European slides are quite affordable the full extension versions are pricey especially the extra depth slides
Visibility - The slides mount to the side of the shelves and can easily be seen when the shelf is pulled out
Space - Slides use 1" of space (1/2" on each side) so shelves must be made 1" smaller than the clear opening
Soft close - There is no soft close feature built into European slides. This is not usually an issue for pull out shelves as soft close means waiting for the shelf to close before closing the cabinet door