Shelves that Slide has been custom making pullout kitchen shelving for a over 34 years. We call them sliding shelving but they are really more short sided drawers. Some have taller sides, fronts and backs or we even have shelves with slanted sides and a tall back. We make bread drawers with sliding tops to keep your breads and rolls safe and fresh. Our custom sliding-shelves installed in your kitchen cabinets make your life easier every day you use them. To make our pull out shelves we use top quality materials such as grade B/B 9 ply Baltic Birch for our kitchen shelving and drawer slides from KV and Wurth to build some of the best sliding shelves money can buy. We did not invent pull out shelves, they have been around for over 75 years and probably longer than that. Take a look under the sink in most houses and you will find that the cleaning supplies are usually kept in a box of some form or another. It is difficult to get items out from a sink cabinet and by necessity people tend to put all of the cleaning supplies in a box and then slide it out to grab what they need. Of course in this case there are no slides an you have to support the box as you pull it out but really it is not a far cry from there to a wooden box or drawer with slides attached. Yes it is a major improvement but not really that big on an advancement. When Del Web started the Sun City idea so many years ago the home design was made with seniors in mind. We learned this the hard way, we first sold shelves in Green Valley which is a retirement community south of Tucson Arizona and then we started selling them in Palm Springs California. We had success so we decided that the Sun City area in Phoenix would be a great market for our shelves and began advertising in the Arizona Republic newspaper. We did zoned ads in the original Sun City area. We were a very small business and it was a big deal to us to spend the money we were spending and we were excited at the calls we expected to receive. After all when we kicked off in Green Valley the response was immediate which is why we were puzzled as to why we received no calls from Sun City even after several ads had run. We finally decided we needed to take the 2 hour drive from Tucson and see what was going on. We stopped at the first open house that we found in Sun City. We could have tried some fast talking and told the realtor that we were looking at homes for our mother but we were honest (I know that can be rare but we really were and still are an honest business) and told her that all we wanted to do was to take a look at the kitchen. Boy were we surprised and I guess somewhat relieved when we saw that Del Web built the original Sun City homes with deep drawer storage and that the only regular cabinet in the kitchen was the one under the sink and guess what, people were already using plastic boxes or even cardboard ones and there was just no real need for us in those homes. Fortunately for us when the newer parts of Sun City were built the cabinets installed were the traditional style and all we had to do was change the zone we advertised in and the phone started ringing. It was a great lesson for us and probably the best 2 hour drive we could have made.
When we started this Shelves that Slide website we were looking to provide a place where our local customers could turn to find out more information about our pull out shelves and kitchen accessories. Advertising is expensive so our ad in the Arizona Republic Newspaper was small and having the website allowed our local customers to see more information than we could put in that small ad. Our slide out shelves are great for kitchen, pantry and bathroom cabinets and they are great for home office and entertainment centers but how do we let people know about this "new" product that was now available when we could not afford to take out anything but small ads in the newspaper. The website also gave us the ability to give more information to our customers without them having to have a stranger come into their homes. Over time we began receiving calls and emails from all over the country for requests for us to ship the shelves. We were surprised that people as far away as New York City were ordering shelves to install themselves. We opened our online store so that these people outside of Arizona could easily purchase our sliding kitchen shelves on a secure web site. We provided our installation and measurement information and soon we were taking orders from all over the country Today there are slews of copycat sliding shelf companies that have sprung up online and across the country. You could say that us putting pull out shelves online let the Genie out of the bottle. We were flattered that these companies liked our idea for slideout shelves so much that they are trying to imitate us. The negative is that many of those companies did not provide a quality product or experience and we hope that does not ever reflect back at us. Some companies sent out the hardware loose instead of installing the slides on the shelves for you like we do. We ship our shelves ready to install with the slides installed and ordered mounting brackets attached to the slides. As is so often true the original is still the best. Our goal is simple, to offer top quality sliding shelves from a quality company that cares about their customers. With over 25 years of experience we know what works and what does not. We also offer other products to help organize your kitchen storage. Kitchen storage accessories and we even offer TV swivel and slide out systems and we will continue to add items to our store. Take a look at our television slide out page where we focused on TV sliding shelves and accessories. That market has since dried up with all the flat screen tv's. We still have the site but you will not find kitchen storage, kitchen accessories or kitchen roll out shelves there. We are happy that we can help you save money on the top quality pull outs and kitchen cabinet accessories. Do it yourself with our sliding shelves and kitchen accessories. Factory direct pricing assures you that you are getting top quality pull out shelves and cabinet accessories for prices that beat the cheap shelves that some sliding shelf companies sell. We sell you each pull out shelf at a fair price direct from the manufacturer, us. You do the simple installation yourself, avoid the middleman and have top quality sliding shelves as well as money left in your wallet. Pull out shelves from shelves that slide. We are not an LLC, we are incorporated in the sate of Arizona and our corporate name is Shelves That Slide INC.
DIY rolling kitchen shelving is custom made to fit your cabinet. Our pullout roll out shelves come fully assembled and ready for installation. We also have a large selection of Rev-A-Shelf Lazy Susans and sliding trash and recycle systems.
---
Slide out shelves for your Kitchen Cabinets
---
For the top quality pull out shelf roll out shelf slide out shelf or sliding drawer the name to trust is Shelves That Slide
We stand by the quality of our slideout shelves for your kitchen cabinet and back them with the best warranty in the business
We do not offer quantity discounts on our sliding shelves to entice you to buy all of your shelves before you see the quality and you are sure you are measuring correctly. We prefer that you order one rollout shelf for your kitchen cabinets and try it out. We are confident in the quality of our sliding shelves and we do not feel we need to encourage you to buy more than one sliding shelf for your first purchase as we are sure you will come back to Shelves that Slide
Customer reviews of Shelves that Slide (for more comments see our testimonial page)
(These are actual testimonials from our customers)
---
Hi Folks!
So I had a special project to do with my very deep and narrow pantry. Not only did I want shelves that slid out but given the ever changing needs of my family I wanted the flexibility of being able to adjust where each shelf was in the pantry.
I knew I needed quality shelves to start so I purchased your Perfect Pantry Pack. I combined this with a purchase of the Burkey Pull Out Pantry System of Wayfair, a structure that allows rolling shelves to be adjusted up and down in a pantry. Steve at your company was extremely helpful over email in getting me the right hardware and guiding me through measurements so I could get my adjustable slide out shelves pantry system.
Everything has been installed and it turned out PERFECT!! Better than I expected. The shelves are very well made, sturdy and high quality. The hardware sent fit the Burkey frame perfectly and I was able to set the shelves as I wanted. I don't know how my family lived without these!? We can see EVERYTHING in the pantry now and have been able to organize our items. It has been wonderful.
The shelves are five star. The only way you could improve on them is to offer the adjustable shelf system yourself (why not.. this together with your shelves is awesome!)
Thank you for all your help! I've attached pics so you can see my transformed pantry.
Melissa M
---
Hi,
It is really a surprise at how relatively easy it was to install one of your shelves. Though "construction" does require above average labor, I am pleased that everything went as well as it did. The one thing I did do was make a "template" of the space available and then positioned the sliders where they needed to go. I put in all of the screw placements on the template as well. After marking where the screws went with a nail, I then removed the template and proceeded with the installation. It was very good advice to put the right side in first and secure it as it made placing the other side less of a hassle. Being an Octogenarian, I had to pace myself, so not everything was done in one go. It did take a few days, but each phase was completed, before taking a break as there was no rush to get the work done.
Jane Grayson
---
Just wanted to let you know that I have installed both of the shelves that I purchased from you. They went in easily and work great. Most importantly, my wife is happy. Thank you.
Ken Miller
---
Hi Steve. Finally got around to installing my shelves. My wife will see them today. She's going to be pleased. She's the only reason I did this.

Thanks for your help. Nicely built and instructions were perfect.

Tom
---
Hello!
I wanted you to know that I am super impressed with my new drawers! The quality and workmanship are outstanding and they were so easy to install. I couldn't be more thrilled with your company. I have wanted to tackle this project for several years but felt a bit intimidated. Although I am a handy gal, I thought this might be better done by a professional. How wrong I was! Your instructions on how to measure were spot on as well as the installation instructions.
I looked for a place to write a review but did not see one. I will definitely be recommending you in the future!
Thanks so much!
Tricia Penner
---
Steve –
Travis recently installed my shelves and they are AWESOME! I sent him a text to tell him how much I appreciated his fast and accurate work in installation as well. Please feel free to use my testimonial anywhere you like.
Michele
---
Just installed two shelves that slide in an old kitchen cabinet (I mean old)
They changed my life - installation was easy as pie. Really great quality equipment that works.
Thank you and Happy new year !!
Stuart Ashman
---
HI Steve,
I can't tell you how pleased I am with your service!

We had a shelf socket break (I admit, I had WAY overloaded the drawer) and needed a new socket. I called to place the order, and within three days the socket was delivered and the drawer was back in place. Frankly, I expected that drawer would be out for the holidays, but instead our kitchen is fully functioning and looks neat, too.

THANK YOU!
Jane McCarty
---
Wanted to let you know that the shelves arrived in fine shape and have been installed. No problems! Great product!
Thanks again for your help...I intend to spread the word! :D
Before - During - After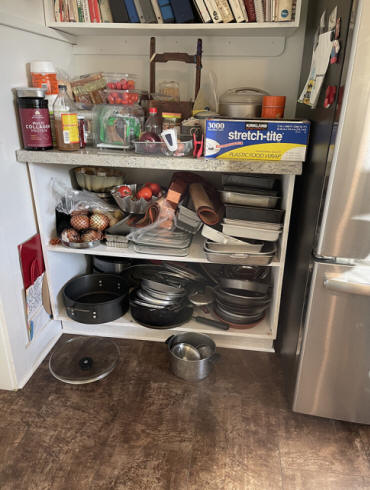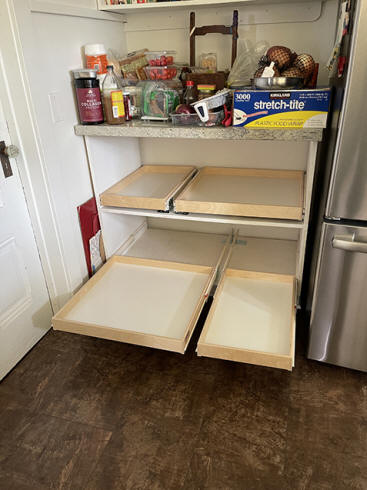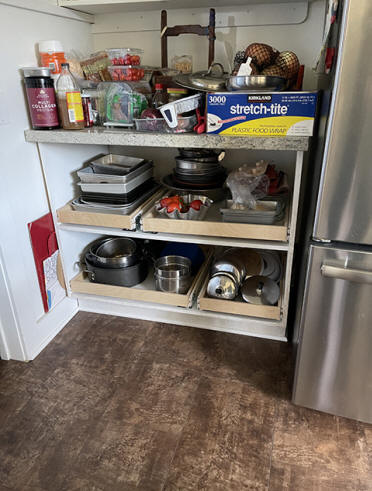 ---
Received in excellent condition...just installed.. AWESOME!! Thank you! Excellent craftsmanship and easy to install. Fit perfectly!!

Fred Marble
---
Hello,
Just a note saying how wonderful it was buying from your company. When my shelves arrives I couldn't believe how well packaged they were. Then when I removed them from the boxes I first noticed that you put your name on the side of every shelf showing me that this company takes pride in their product. And lastly with my good measuring they fit like a glove. When I return to my summer home I will be placing a small order for a couple of cabinets.
Thank You
Douglas Croteau
---
Steve,
Just to let you know everything arrived as ordered, perfect fit, great quality!
Thank you,
Randy
---
Before and After, great improvement!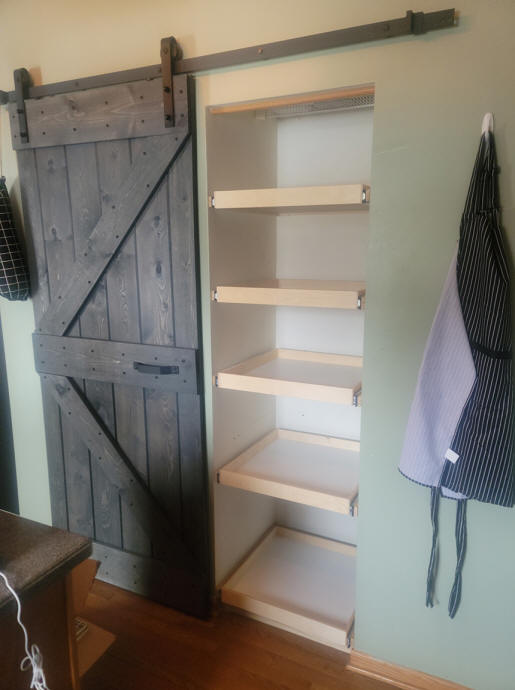 ---
I installed my sliding shelves yesterday, and I am a very happy customer. A picture of 4 of them is attached.
We had our shelves shipped to us, in what may be the best packaging I've ever seen. Each shelf was wrapped, then packed in bubble wrap and foam. They fit my cabinets perfectly, and the workmanship is very good. The self-drilling screws that were provided worked very well, much faster and easier than separate drilling and screwing. The extra screws and door protectors you provided were a nice touch, so I didn't have to worry about running out of hardware.
I am a competent DIY person, so I planned to divide the work over 2 days. But the installation went so smoothly that I got all 8 shelves done in just over half a day. And that was with my 5 year old grandson helping, if you know what I mean ;)
Thanks again for a great product. I will recommend your firm to anyone looking for quality pull-out shelves at a fair price.
---
Received my shelves and installed them today. So easy even for a 73 yr young women to install. They work great and look wonderful. I'm happy. Thank you
Nancy C.


---
Thanks Steve,
Shelf was received and it is the same very high quality as the last ones I bought. Your's is a great company making a high quality product and offers great service.
---
I want to thank you for the wonderful product. I was able to install the four shelves I purchased from you by myself. My husband stood by and watched!!. The instructions were easy to follow and the black hole closet finally has shelves after 35 years living in this house. I received a quote for almost $3000 to have shelves installed by a national shelving company. I couldn't be happier. Thank you I have pictures and a video I could share if you are interested.
Davie Peck
---
Steve, my order arrived Friday in perfect condition, thanks to your excellent packing.
All eleven shelves are perfect fits, and installation was straightforward. Good instructions. We like the full width shelves behind the double doors, but agree that splitting the ones where cooktop gas pipe limits depth on one side is the better choice. Glad to have the full-depth 23-3/4 everywhere else.
We're really pleased with the results
Thanks,
Santa Fe, NM
---
Hi, Steve!!!!
I just wanted to drop you a line, thanking both you AND this company for such outstanding products!!!!! This year's been a rat race, and I didn't get a chance to install the shelves 'til about July. That was just a short period ago, and we're both ALREADY spoiled!!!! LOL!!!!!

The measurements were absolutely perfect, and they were sanded to PERFECTION!!!! I've been bragging about them quite a lot, and sincerely hope that I'll be able to send you further business!!

THANK YOU!!!!!!! My wife's tickled with them, and I no longer have to crawl in the cabinets to get what she wants!!!


Sincerely yours,
Bob Christensen :-) :-) :-)
---
Hi folks,
I recently refinished our bathroom. I'm a handy DIYer and have remodeled our entire home in the last 30 years.
As I completed our bathroom, I posted pics on Facebook and one of our friends was also remodeling their bathroom. She showed a picture of the new sliding shelves she put in and I asked where she found them. She gave us your website and I immediately ordered two shelves.
We installed them right away! We're very impressed with the quality of your products and the ease in which to install. I only wish I would have done this 25 years ago. There are some cabinets in the kitchen I'll be ordering shelves for soon!

---
HI Steve, I wanted to let you know that we received our sliding shelves yesterday. They were in great shape, due to a great packing job.
I installed them right away, and they work great . . Only took me about 40 minutes to put them in my Pantry cabinet. The fit was perfect also.
Just wanted to say Thanks ,and let you know it was money well spent.
Would highly recommend your product to others.
---
Hello, I just got done installing these in our new RV, and we could not be happier! They are 33 1/2" deep, so without the slides, the pantry was almost useless because we could not reach anything. The slides are a huge improvement and I just wanted to share a few pictures.
Thank you for making a wonderful product!
---
Hi all,
Thanks for a great product, they are awesome. We plan to get some more for our pantry cabinet at some point in the future.
I called for guidance a couple times and spoke with someone on the phone a few weeks back (sorry I didn't write the name down) but I mentioned I would send pics of the finished installation and I'm finally getting around to sending them. Each picture has a little comment under it.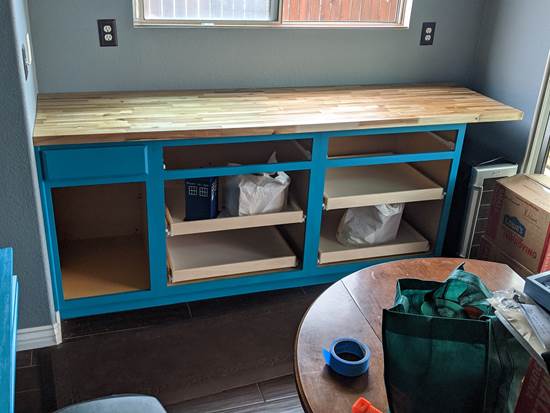 The top shelf on the right is intentionally higher as we are putting teacups and such, things that are not very tall, and on the flip side taller things in the bottom shelf on the right. (Also the cabinets are teal, but in pictures seem to be more blue than in person. Note the difference in color between the cabinets and the blue painters tape sitting on the table).
I mounted the bottom one set back from the lip because I thought the top one would have a mount that would mount on the back of the face. Once I was instructed by someone that it screwed to the side of the face, I considered whether I wanted to move the bottom drawer back forward to line up with the top, or just leave it. I chose to just leave it.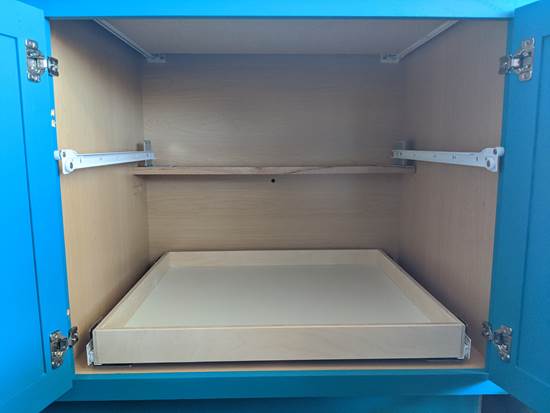 These shelves were the cheap version from Lowe's, so it didn't come with a half shelf. I used a hardwood 1x3 normally used to trim out the space to the wall to make a platform to screw the floor mounts onto. I used overly long drywall screws both sides for the best stability.
---
We moved into a new home (5 years old but new to us) last year, and the pantry setup was tall and narrow, so you couldn't see what was in the back. I immediately researched sliding shelves online and your company kept coming up repeatedly. After looking over your catalog, I found the 5 shelf package with free shipping was for me!! The shelves arrived promptly, I installed them without problem (although I work slowly) and VOILA! I was a very happy camper!!!
Now in this house for almost a year, I was getting fed up with the cabinet that held pots and pans, quite wide but with only a half shelf on top. Back onto your website I went, put in my measurements (which I thought were accurate), and you contacted me immediately to double check the depth of my cabinets, because you felt I might have inputted the wrong number. What service, you saved me from a costly mistake! Just finished installing the shelves and am so pleased that I don't have to fight to access my cookware anymore!!
As many other purchasers have stated, the packaging is absolutely FedEx-proof, and would survive a trip into outer space. Your turn-around time and customer service are top notch, and I recommend your company to anyone and everyone. Thank you for restoring our faith in American-made products!!
Louise Flynn
---
Hello Sales at Shelves that Slide,
Just wanted to say thank you for making our four sliding shelves for our lower cabinets here. They arrived in great shape, packaged expertly, and everything was included in the package to install the slides...... did that today, and they were easy to install and will work perfectly.
In my career, I spent 35 years in manufacturing, from Los Angeles, to New Jersey to Georgia to Maryland, and know it when I see a great quality job. Please pass that on to your cutting and assembly teams, my thanks for a great job!!
VP Membership and Chapter Development
---
Hi,
I had my new shelves installed this morning and they are wonderful! I highly
recommend this shelving if you have back or hip issues due to arthritis.
I was determined to buy shelving that was made in the USA and was so happy
to find your company. The biggest plus was the fabulous customer service
provided by Josh and Jacob B. They were not only helpful, they were kind.
Linda
---
Well.. I finally got the shelves in and boy Steve are they really nice..... I couldn't install them. I had friends that are younger and more agile too. At 73 I can't kneel on the knees anymore and the length of the shelve was longer and I couldn't do them But... man they work great! I'm so glad you could help me out and I will definitely tell people and show them how well the idea works too. Here's a couple of before and after photos LOL. As you can see we have a lot of stuff LOL. Take It Easy. And Thanks Again Steve!!!
---
Hi Steve!
I got my shelves today and they fit perfectly! I just wanted to take a minute to thank you and let you know that I'm so pleased with the quality and how easy they were to install. They are a MILLION times better quality than the existing ones that were installed by the previous homeowner from Cabinets To Go.
Thank you again!
Be well,
Samantha
---
Steve,
Thought I would let you know our shelves arrived on Friday and I waited until today to install them. I just want you and the company to know how pleased I am with our purchase. I saw the ad in Family Handyman Magazine and after doing a bit of research, decided to go with the product Shelves that Slide sells. It took a bit of time today to install the first shelf, as I built a template to follow to arrange and space the glides and to space them from the side of the cabinet, but after getting the first one done, the balance went quickly. Thanks for building a quality product that was very easy to install. We are planning on building a new home within the next two years and when that happens, I will again purchase Shelves that Slide and install myself.
Again, that for building a quality product.
---
Received the drawer today. Need to change the slides to match the old drawer's set, as expected, since I don't want to crawl into the cabinet to replace the cabinet side of the slide, using the included matching cabinet set.
Drawer is perfect in every way. Perfect size, well manufactured from laminated wood instead of particle board, well finished, and as a former the UPS Store owner, best packing job for shipment I've seen done anywhere outside of my old store. The plastic bottom is a great touch for durability. It will last far longer than the original.
Very pleased, will order again when I have need. Since people rarely praise and easily complain, I wished let you know.
---
Hi Steve, we finally installed the shelf and it is just perfect. The shelf is well made, finished and the materials to install were complete. A "5" star, thank you, Sandra Riordan
---
Just wanted to send along a big thank you and recommendation to anyone thinking of buying your sliding kitchen shelves. I ordered the 10 pack of the premium shelves for use in our kitchen base cabinets and a 5 shelf pantry cabinet. After reading over your instructions for measuring ,I spent about an hour measuring and re measuring knowing this was a critical step in the process. My order arrived in about 5 days in perfect order. I read the instructions and some helpful hints in the testimonial section on your website and started the installation. The first one went slow but after that it was pretty smooth. I finished the job in two days and it came out great. My wife loves them and our cabinets are totally usable now. I would highly recommend your company and your product.

Thank You
Steve Birnstill
Wimauma Florida
---
Worked well.
Thank you.
Jeff

---
I wanted to share pictures of my slide out drawers. I am so thrilled with them! They are perfectly functional, so attractive, and I am thrilled to have them.
---
Thank you! The brackets arrived and all of our new pull out shelves are installed! I LOVE them! They make reaching everything so much easier! I highly recommend them!
---
1. Shelves arrived well before the promised delivery date. Packing was secure and solid.
2. Shelves are SOLID and high quality!! We are VERY pleased with how functional AND beautiful they are.
3. Instructions were adequate and installation was easy. Ok, let's admit, I ordered 10 shelves. Installing #10 was WAY easier than installing #1. :)
We are happy campers. We will probably order more. Do y'all ever throw them on sale?
Nasser and Jeanna Shukayr
---
Hello my name is Timothy Walker and my order # is 108712. I received my shelves on 3/20/2020 and installed them the next day. I just wanted you to know what a great product you have. They are well built and were very easy to install. My wife could not be happier and that makes me happy. I will highly recommend your company to any one who needs cabinet sliders. Again great product and thank you.
From a very satisfied customer
Timothy Walker
---
Love my new Shelves that Slide! I ordered only 3 initially, because I wasn't sure how well it would work. I ordered the next set when I saw how easy it was! Very well packaged, and they look wonderful.
The hint about using tape on the bottom of the rail brackets was brilliant! I discovered a couple more uses for tape- I used tape to hold the rails to the drawer when trying to set it up, and folded it back so I could remove it when it was time to slide out the drawer. Was very helpful in tight quarters.
I also used tape to hold the "feet" down, and in place, so I didn't accidentally move it while taking the drawer in and out. Even with the tape on the bottom, they extra helped keep me from bumping it out of position.
If doing 2 shelves in the same cupboard- do the bottom one first. To do the top one, determine the level you will place it, and then drop it on top of the bottom shelf to install the shelves. Do not take it out! Many cupboards are very tight, and you might not be able to get the shelf back in with the rails on it. All you have to do is lift the shelf up and put the holders in place when done.
This is such a quality product, and they fit beautifully! I am looking around for where I can install more!
Thanks again for such a quality product, with excellent instructions.
---
For top quality pull out shelf rollout shelf slide out shelf or sliding drawer the name to trust is Shelves That Slide
We stand by the quality of our slideout shelves for your kitchen cabinet and back them with the best warranty in the business
We do not offer quantity discounts on our sliding shelves to entice you to buy all of your shelves before you see the quality and you are sure you are measuring correctly. We prefer that you order one rollout shelf for your kitchen cabinets and try it out. We are confident in the quality of our sliding shelves and we do not feel we need to encourage you to buy more than one sliding shelf for your first purchase as we are sure you will come back to Shelves that Slide